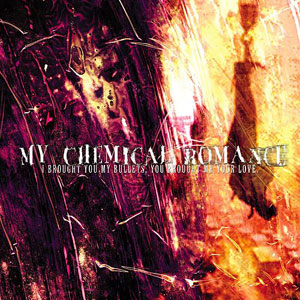 Ejj, erről most nem sok jót fogok írni... :S Nekem túlzottan kezdetleges az egész... Talán azért is, mert a megalakulásuk után mindössze három hónappal készítették el a lemezt. Ez a nagy sietség a minőség rovására ment, úgy érzem...
Alakulásuk ideje 2001-re tehető: állítólag a szeptember 11-ei terrortámadás hatására határozta el Gerard Way, a banda énekes-frontembere, hogy zenekart alapít. Az albumon hallható "Skylines and turnstiles" is Way érzéseit mondja el a tragédiával kapcsolatban. Nevüket Irvine Welsh könyvéből, az "Ecstasy: Three Tales of Chemical Romance"-ből vették; nem meglepő a banda viszonya a könyvekkel, mivel Gerard öccse, a basszusgitáros Mikey bandává alakulásukat megelőzően könyvtárban dolgozott, Gerard pedig képregényíró és animátor volt. Dolgozott egy vámpír képregényen is, amit sosem sikerült befejeznie, és elmondása szerint ez az oka annak is, hogy a banda dalszövegeiben gyakran jellennek meg vámpírok.
Zenéjükben, szövegeikben, albumborítóikon és klipjeikben is az irányadó műfaj a horror.
Az album a megjelenést követően ingyenesen letölthető volt, és rajongói bázisukat a MCR-es fiúk főként a MySpace-en építették ki.
Tracklist:
01. Romance
02. Honey, this Mirror isn't big enough for the two of us
03. Vampires will never hurt You
04. Drowning Lessons
05. Our Lady of Sorrows
06. Headfirst for Halos
07. Skylines and Turnstiles
08. Early Sunsets over Monroeville
09. This is the best Day ever
10. Cubicles
11. Demolition Lovers
Az album legjobbja:
Nagyon nehezen találtam ilyet, sajnos...
My Chemical Romance - Honey, this Mirror isn't big enough for the two of us
Osztályzat: 10/5