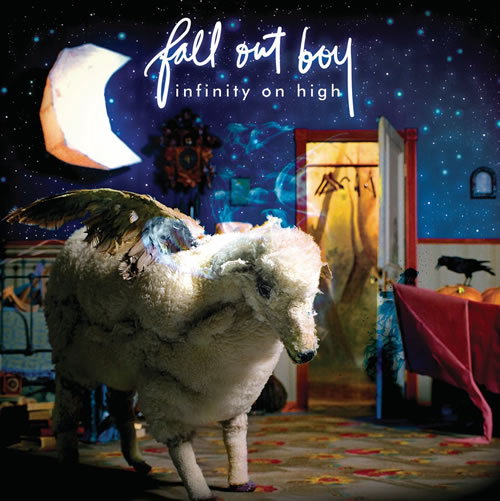 Egyike azoknak az albumoknak, melyekhez fontos emlékeim fűződnek. Ezt a lemezt pl. az egyik legcsodálatosabb embertől kaptam, akit valaha is ismertem (és akivel, még ha csak rövid ideig is, de közös volt a jelenünk, és hittük, hogy a jövőnk is). Az albumról egyetlen dalt sem tudok úgy meghallgatni, hogy ne jutna ő az eszembe, aki mai napig legjobb barátom. :) Eddig sem mondhatni, hogy túlzottan érzelemmenetesen értékeltem az albumokat, de most meg pláne nem fog ez menni. :D
Maga a lemez nem egy nagy eresztés. Vannak rajta egész jó kis darabok, de így összességében csak egy erős középmezőny. Az a tipikus "amerikai punk-rock" - se több, se kevesebb.
Az egész jó darabok sorába tudnám sorolni pl. a Thrillert. Az elején mindig elmosolyodok a "welcome, szia"-n :D (persze Jay-Z nem ezt mondja, csak teljesen így hangzik). Ezen is Vele kezdtünk poénkodni, aztán azóta mindig belehallom a "sziát". :D
A szerelem viszont mindenképpen a Thnks fr th mmrs-zal kezdődött: zenecsatornán láttam a videót anno, aztán Pete Wentz-fan lettem (ő a banda gitárosa)... :D Később megkaptam a lemezt, és eléggé ráfüggtem a többi dalra is. :)) Viszont már jóideje nem hallgattam, de blogolni mindenképpen szerettem volna róla, így hát ismét előszedtem.
Tracklist:
01. Thriller (ft. Jay-Z)
02. The Take Over, the Breaks Over
03. This Ain't a Scene, it's an Arms Race
04. I'm Like a Lawyer with the Way I'm Always...
05. Hum Hallelujah
06. Golden
07. Thnks fr th Mmrs
08. Don't You Know Who I Think I Am?
09. The (After) Life of the Party
10. The Carpal Tunnel of Love
11. Bang the Doldrums
12. Fame < Infamy
13. You're Crashing, but You're No Wave
14. I've Got All This Rising in my Ears and None on my Fingers
Bár tényleg nagyjából egyforma szinten szeretem a kiemelt trackeket, mégis a 7.-et választom, mint kiemelkedő dalt. :) (Pedig pl. nagyon-nagyon jó a 3. és a 12. is).
Ennek okai, amit már fentebb is említettem, hogy ez volt az első, na meg ez a hozzá készült videó is haláli. :) De talán ez a beszédes cím az, ami leginkább hozzájárult, hogy kiemeljem. Ezt akár én is mondhatnám Neki: "Köszönet az emlékekért."
Fall Out Boy - Thnks fr th Mmrs
Osztályzat: 10/7