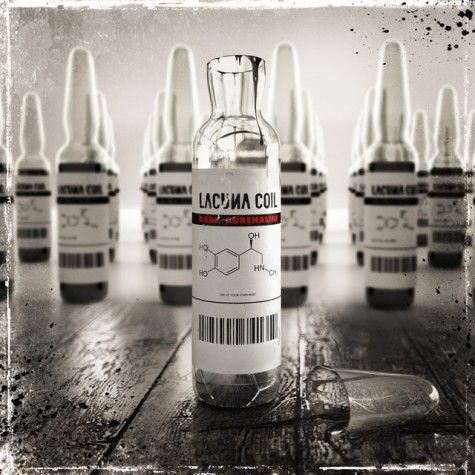 Ez az év is jól indult: már rögtön januárban ilyen remek lemez került ki a zeneipar sütödéjéből. Nekem ez volt az első albumom az olasz gótikus metál nagyjától, a Lacuna Coiltól. Az énekesnő, Cristina Scabbia hangjával már azelőtt is találkoztam: az Apocalyptica egyik dalában (S.O.S. Anything but Love) ő a vendégénekes, és mai napig egyik kedvenc dalom ez.
A lemez érkezéséről egyik ismerősömtől hallottam, és úgy gondoltam, itt az ideje, hogy jól megmustráljam magamnak ezt a csapatot is.
A Lacuna Coilt 1994-ben alapították. Azóta több névváltoztatáson és tagcserén is átesett a csapat, sikerük viszont töretlen: sőt, ezután a Dark Adrenaline album után (ami egyébként a banda hatodik stúdióalbuma) talán csak még sikeresebbek és elismertebbek lettek, ugyanis sok helyen listavezető albumnak kiáltották ki, és nem mellesleg a "Trip the Darkness" (első kislemezes daluk a korongról) a negyedik Underworld-film - "Az ébredés" - egyik filmzenéje is egyben. 
Cristina Scabbia és Andrea Ferro énekhangja, ez a női és férfi hangkavalkád akár már lerágott csont is lehetne, hisz sok csapat ütőkártyája is épp ez, mégis ezzel a néhol sötét, gótos hangzással vegyítve válnak igazán versenyképessé. A dalok tele vannak megannyi félhanggal, és érthetetlen dallamvezetéssel - időről időre meglepnek. Az akcentusuk pedig imádnivaló (bár kezdetben tény, hogy nagyon zavart, főleg, ahogy Andrea ejti a szavakat). :))
Ha gyorsan végigfuttatjuk szemünket (és fülünket) a számlistán, valahogy engem épp a Trip the Darkness az, ami nem tudott megfogni (persze, mikor kijött az első single, én is meghallgattam párszor, de őszintén: én nem ebből készítettem volna az első bemutatkozó kislemezt - ennél vannak számomra sokkal tetszetősebbek is...).
Tracklist:
01. Trip the Darkness
02. Against You
03. Kill the Light
04. Give me something more
05. Upsidedown
06. End of Time
07. I don't believe in Tomorrow
08. Intoxicated
09. The Army inside
10. Losing my Religion
11. Fire
12. My Spirit
+ Bonus Track: Soul Inmate
Érdekessége a lemeznek, hogy a Losing my Religion egy azonos című R.E.M.-dal feldolgozása. Mikor először hallottam, és nem tudtam, hogy feldolgozás (és hogy minek a feldolgozása), nagyon ismerős volt, aztán rákerestem az eredetire is. Igazából, nekem mindkettő nagyon tetszik: a R.E.M.-félét már sokszor hallottam korábban rádióban (cím alapján viszont nem ismertem), de azt kell mondjam, a Lacuna Coil coverje sem rosszabb, csak stílusilag totál más. Remek munkát végeztek vele, ez tagadhatatlan.
A legfurább dal az egész lemezen a 7-es track. Ezt én már túl sötétnek, durvának és borongósnak éreztem. Nem rossz ez sem, csak valahogy nem tudtam megszeretni... A másik pedig, ahol kicsit túlzásba estek, az az End of Time, ez pedig pont a másik véglet, hozzájuk képest talán már túl vidám, túl érzelmes... És az is érdekes, hogy ezt a két dalt pont egymás után helyezték el a lemezen. Hm. :)
A My Spirit pikantériája, hogy olasz nyelvű rész is van benne, ezzel valamelyest különlegessé, még hangulatosabbá téve ezt az amúgy is kuriózum dalt.
Az egyik legjobb dal pedig számomra kétségkívül az Intoxicated. Imádom, ahogy Cristina játszik a hangjával - eleinte furcsa volt, végül pedig napokig csak ezt hallgattam a lemezről. =) A zenei alap, az ének és tényleg minden nagyon rendben van ebben a dalban.
Kedvencnek mégis mást választottam. Megindokolni nem tudom. Egyszerűen csak beleszerettem.
Lacuna Coil - The Army inside
Osztályzat: 10/9