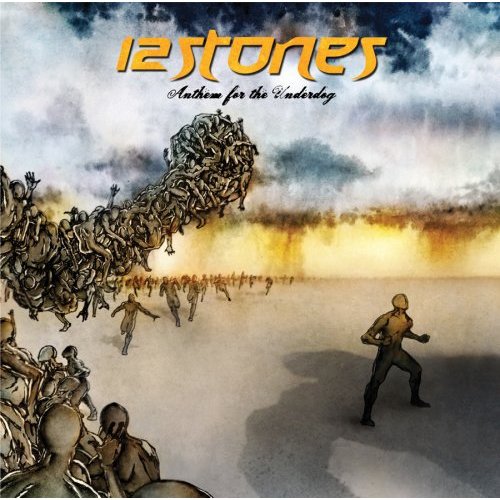 Ezúttal a 12 Stones-t szeretném megismertetni azokkal, akik még nem ismernék. :) Egyből a közepébe csapok: az Anthem for the Underdog ugyanis a harmadik stúdióalbuma a srácoknak.
A csapat 2000-ben állt össze, zenéjük leginkább a keresztény rock/post-grunge műfajba sorolható, napjainkra pedig több, mint 2 millió lemezt adtak el. A csapat énekese, Paul McCoy sokak számára ismerős lehet, ugyanis ő énekelt duettet Amy Lee-vel az Evanescence "Bring me to Life" c. dalában (én is akkor hallottam róla először, aztán kezdtem ismerkedni csapatával, a 12 Stones-szal, bár arra már nem emlékszem, hogy ki ajánlotta őket, vagy hogyan került hozzám az első lemezük - ami az Anthem for the Underdog volt, szóval ezt a bejegyzést jónéhány hallgatás után írom... :)).
Az album első kislemeze a "Lie to Me" c. daluk kapcsán készült - első kedvenc dalom tőlük nekem is ez volt (leginkább az akusztikus verziót szeretem nagyon). A "Broken Road" c. daluk társszerzője az American Idol-ban feltűnt Chris Daughtry, aki jelenleg a "Daugtry" elnevezésű zenekar frontembere. Egyébként a két csapat stílusa nem áll messze egymástól, szóval aki a Daugtry-t szereti, az a 12 Stones-t is fogja, és fordítva. =)
Némileg vonható párhuzam a Nickelback-el is (pláne az "Adrenaline" c. dalukat hallgatva).
Szóval: mindent összevetve nekem ez tetszik. Igaz, nem szálltam el tőle, de laza kikapcsolódásnak jó.
Tracklist:
01. Anthem for the Underdog
02. Lie to Me
03. Broken Road
04. Adrenaline
05. It was You
06. This dark Day
07. World so cold
08. Arms of a Stranger
09. Hey Love
10. Games You play
11. Lie to Me (acoustic)
Mint ahogy már föntebb írtam, egy ideig rajongásig szerettem a "Lie to Me" akusztikus verzióját, szóval ha valami lassúra vágyik az ember, ezt mindenképpen tudom ajánlani. Kedvencnek most még sem ezt választottam. A gitár riffeket a legtöbb track-jükben egyszerűen imádom (mint pl. a 10-es számukban). A választás mégis kisebb fejtörést okozott, mert szinte az összes kiemelt daluk azonos szinten van nálam. De amit legrégebb óta, és leginkább szeretek, az a: 
12 Stones - World so cold
Osztályzat: 10/8