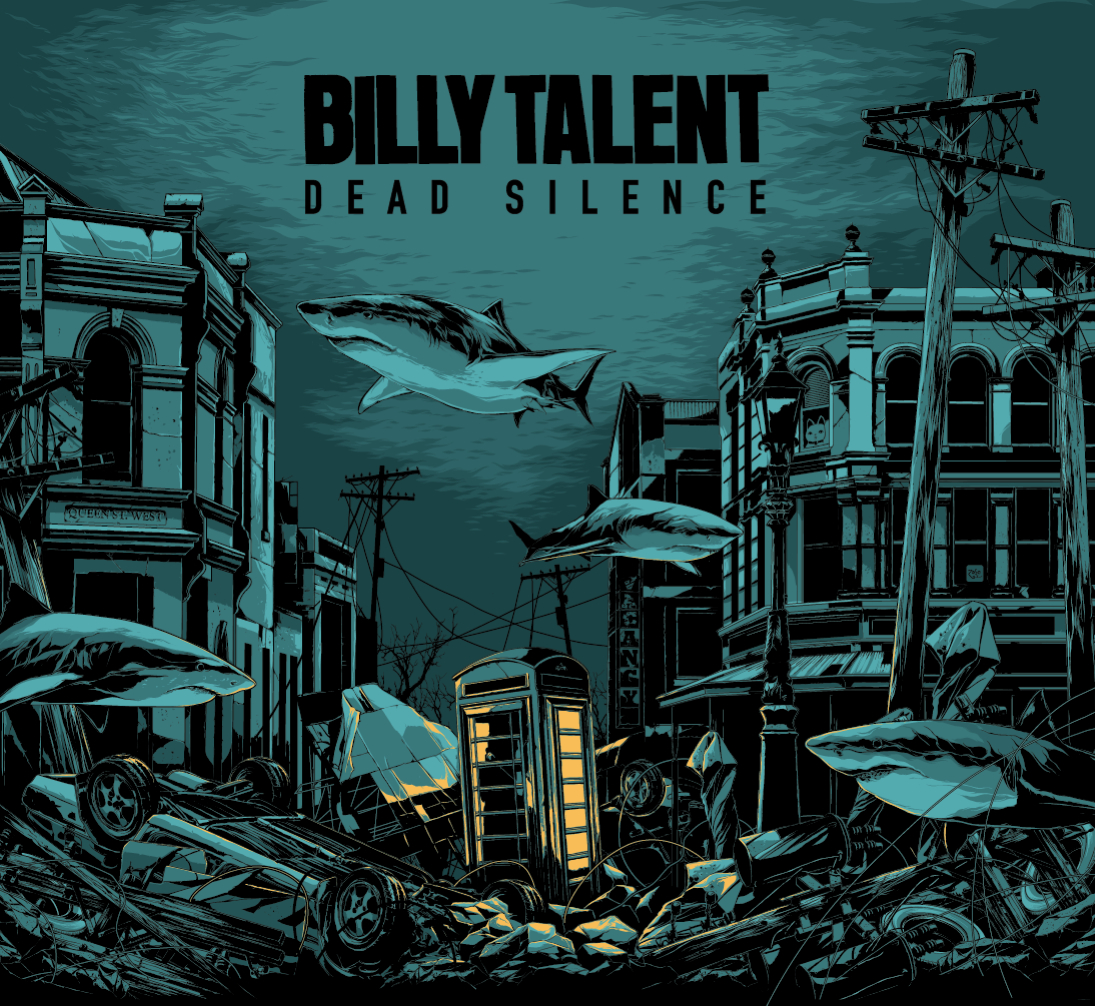 Ahhoz képest, hogy az előző bejegyzésemben még arról írtam, hogy most, hogy letudtam a németet, mennyivel több szabadidőm lett, hát ez csak ideig-óráig volt így... :/ El vagyok maradva mindennel (suliban, itthon, mindenhol), így írni sem tudtam - bár lehet, hogy sokan épp ennek örülnek... :P Na mindegy. Most viszont jön egy újabb poszt, méghozzá egy vadiúj lemezről, amit már azóta hallgatok, hogy a kezeim közé kaparintottam. Bár, néhány bejegyzéssel ezelőtt már írtam egy BT-lemezről, de belőlük sosem elég, úgyhogy jöjjön még egy kis repeta... :))
Őszintén: én már nagyon vártam az új albumot. Pláne, hogy anno mennyire az ujjaik köré csavartak (leginkább a Fallen Leaves c. dalukkal, ami nálam azóta is etalon). Bámulatos, mennyi erő van ebben a négy srácban! ...És erősen bizakodom, hogy a sikerük sem múlandó: immáron negyedik stúdiólemezüket készítették el, ez azért mindenképpen jó jel. Ahogyan az is, hogy bár nem nyűgöztek le az előző lemezükkel, a "Billy Talent III"-mal, most mégis hozták azt a szintet, amit a "Billy Talent II" jelentett nekem. (Fura egyébként, hogy nekem minden második lemezük tetszik úgy igazán...)
A korong szeptember elején jelent meg. Eddig elég sikeresnek bizonyul, ráadásul jó hír a magyar rajongóknak: a csapat turnésorozatuk keretében jövő február 4.-én hazánkba látogat. Így, hogy utánanéztem kicsit, hogy hol mit írnak a BT-ről a kritikai blogok, illetve magáról a lemezről, furcsa, hogy néhány helyen a Green Day-jel állítják ellentétbe. Nem tudom. Nekem ez a két banda teljesen más műfaj, hiába punk-rockot nyomat mindkettő. Valahogy a Billy Talent mindig is inkább szívügyem volt, mint a Green Day. Nem tudom pontosan miért... :/ De jobban szeretem a dalaikat is. Nekem a Green Day dallamvilágban inkább tűnik egysíkúnak, mint a Billy Talent, nem tudnak annyira eljutni hozzám. Pedig a GD-nek is vannak ám olyan zenéi, hogy borsódzom tőlük, annyira jók. A Billy Talent legtöbb zenéjével viszont így vagyok alapból... 
Egyáltalán nem csalódtam az új lemezben sem, sőt! Ezt is átlengi az a tipikus Billy Talent íz, amit annyira nagyon szeretek...., pörgős, tetszetős szövegek (na most vettem a fáradságot, és néhány dal szövegét lefordítgattam, mert baromira érdekelt... :D), végletekig fülbemászó és megjegyezhető dallamok, és Ben Kowalewicz-cel való éneklés valahányszor, amikor hallgatom a dalokat... :D
Tracklist:
01. Lonely Road to Absolution
02. Viking Death March
03. Surprise, Surprise
04. Runnin' across the Tracks
05. Love was still around
06. Stand Up and Run
07. Crooked Minds
08. Man Alive!
09. Hanging by a Thread
10. Cure for the Enemy
11. Don't count on the Wicked
12. Show Me the Way
13. Swallowed Up by the Ocean
14. Dead Silence
Próbáltam párommal is megszerettetni, ha már egyszer én rajongok ezért az egészért, amit itt összehoztak a srácok ezen a cd-n. De nem tudom megfertőzni, mert mindig azzal takarózik, hogy neki nem tetszik Ben hangja... Az tény, hogy nem egy átlagos hangszín/előadásmód az, ami neki van, illetve amit csinál, de én épp ezt szeretem bennük. Hogy sokkal másabbak, mint a hasonló punk-rock bandák...
Most is, ahogy hallgatom újra az album dalait, folyamatosan ráz a hideg ettől az egésztől... Fura, hogy egy-egy totál egyszerű, "semmi extrának" tűnő albumtól is miféle tüneteket produkálok. :)
Én ezt imádtam. A műfaj szerelmeseinek mindenképpen kötelező!
Most pedig már csak a kedvenc felvétel kiválasztása maradt hátra. Nem egyszerű feladat, mert elsőnek pl. a 2. track volt az, ami megfogott, akkor egy ideig csak ezt voltam hajlandó hallgatni. :D Aztán, ahogy tovább haladtam, majdnem minden dalban találtam valami olyat, ami miatt folyton megnyomtam az újrajátszó gombot... :D Imádom a "Hanging by a Thread"-et is, a szövegét is, a dallam pedig tipikusan Billy Talent-es. :)) Ejj, nem egyszerű ez... De ami a leg-leg-leg, az mégiscsak ez, akárhogyan töprengek:
"...This heart don't count on the wicked
We face this world alone
When all they want is to break you
Turn anger into hope..."
(Don't count on the Wicked)
Billy Talent - Don't count on the Wicked
Ennél kevesebbet, ha próbálnék, sem tudnék adni a lemezre. Egyszerűen tökéletes - számomra.
Osztályzat: 10/10