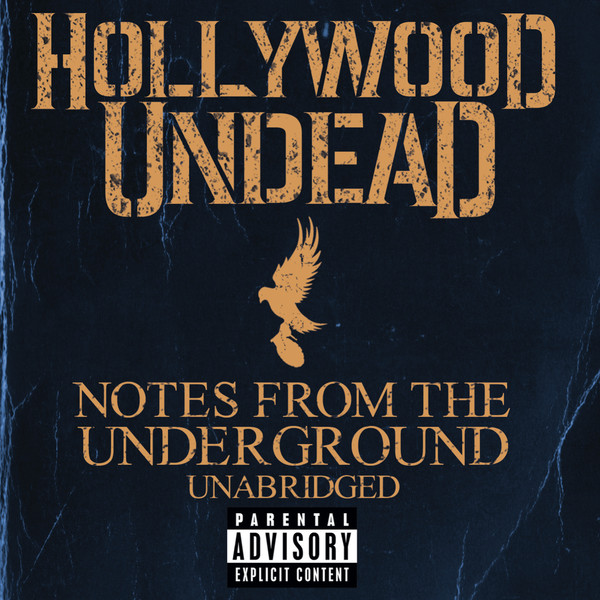 A zh-k, vizsgák letudva - már "csak" az államvizsga van hátra. Hát, mit ne mondjak: nem várom... :/
No de nyafizás helyett inkább jöjjön egy újabb ajánló, a Hollywood Undead harmadik stúdiókorongjáról.
A lemez (bár jóval korábbra tervezték, eredetileg 2012 nyarára) idén januárban látott napvilágot. A srácok zenei stílusa változatlan, továbbra is túlmutat minden zenei kategória határán, így igazából bekategorizálhatatlanok. Egyediségük megunhatatlan, és ez az új lemezük is legalább annyira ütősre és hatásosra sikerült, mint az előzőek.
Mint ahogy írtam, ezúttal is sok-sok zenei műfaj találkozik, és tagadhatatlan, hogy egy-egy dalban némelyik műfaj kifejezetten dominál is (a rock és rap elemek mellett): a Believe leginkább hip-hop-os, r'n'b-s (és lehet, hogy ez sértésnek fog tűnni, de simán be is illene a zenecsatornákon éjjel-nappal nyomatott zenék közé - legalábbis ami a populárisabb, nyugisabb dallamát illeti). A Lion a pop és a rock ötvözése, de egész egyszerűen imádom ezt a szerzeményüket (a szöveg is... abszolút bejövős). Az Up in Smoke és a Pigskin is inkább hip-hop-vonalon mozog, ezek pl. a rocknak közelében sincsenek. A többi dal viszont igazából a szokásos (pop-hiphop-rap-rock/metal) ötvözet. Az Outside is egy igazi gyöngyszeme a lemeznek (a zenei alap is iszonyúan tetszik), dől belőle a fájdalom, ahogy az énekes, Danny a világba ordítja:
"Who left the door open?
Who left me outside?
I'm on my knees, and I'm hoping
That someone holds me tonight,
Hold me tonight."
Ha eggyel tovább lépünk a lemezen, a következő dal, a Medicine egyenesen meglepő: a srácok ismét tanúbizonyságot adnak arról, hogy igen, ők még mindig tudnak újat mutatni. Ahogyan korábban a lemez 7.dala, a Rain is a furcsagávál tűnik ki: itt már a kezdeti latinos gitárdallamra felkapja az ember a fejét, hogy biztosan még mindig a H.U.-lemezt hallgatja?? o.O
Mindent egybevetve: ezúttal is bárki megtalálhatja a stílusához legközelebb álló dalt, bőven akad választék a lemezen. És ez így is van jól: amíg a srácok ennyire kreatívak maradnak a zenei műfajok mixelésében, a dalok megalkotásában, addig nincs baj. Eddig semmi ok az aggodalomra, mert az már világosan kitűnik így, a harmadik nagylemezük után, hogy egyértelműen megy ez nekik! ;)
Tracklist:
01. Dead Bite
02. From the Ground
03. Another Way Out
04. Lion
05. We are
06. Pigskin
07. Rain
08. Kill Everyone
09. Believe
10. Up in Smoke
11. Outside
12. Medicine (Unabridged Edition Track)
13. One More Bottle (Unabridged Edition Track)
14. Delish (Unabridged Edition Track)
Bár a srácok azt nyilatkozták, hogy az új lemezük leginkább a Swan Songs-albumra hajaz, szerintem inkább túl is mutat azon, nem meglepő módon: a tagok egyre rutinosabbá válnak, egyre otthonosabban mozognak önállóan kreált műfajukban. Énekileg és rap terén is nagyon jók... Ez van, nem tudok rosszat írni róluk. :D
Ezen a lemezen most valahogy a lassúbb dalaikat jobban megszerettem, mert a csapat lírikus oldala is igen profi ám. Akárcsak az előző lemezükről, most is egy ilyen szerzeményt választottam kedvencnek. Hallgatom, és borzongok...
Hollywood Undead - Outside
Tűnődtem, hogy miért ne adhatnék erre is (mint az American Tragedy-re) 10-es értékelést. Igazából semmi nyomós érvet nem találtam. Ha nem figyelek oda, a végén kedvencem lesz a csapat is. :))
Osztályzat: 10/10