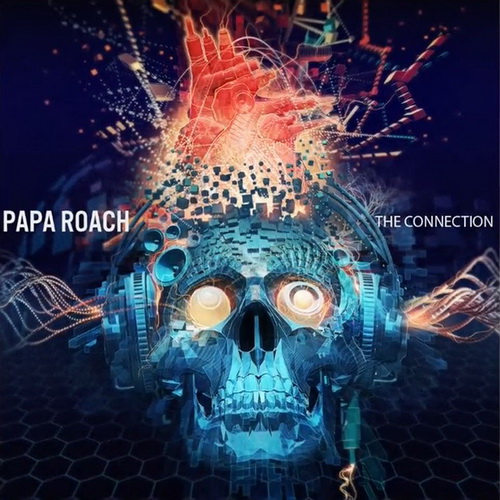 Beköszöntött a június, elvileg itt a nyár (az időjáráson meg nem igazán vehető észre, de azt mondják, tényleg jön), úgyhogy nem is hozhattam volna ideálisabb lemezt, mint a Papa Roach legutóbbi, pörgős, energikus cédéjét, a "The Connection"-t. :)
A srácok hetedik stúdiókorongja tavaly októberben került a boltok polcaira. Panaszra nem lehet okunk, mert a csapat abszolút hű önmagához, sikerült kiküszöbölniük az előző lemezükkel elkövetett esetleges csorbákat is (és itt most nem a 2010-es live albumukra, hanem a 2009-es Metamorphosis-ra gondolok), így most is azt kaptuk, amihez már korábban hozzászokhattunk. Érdekesség, hogy a cd-megjelenés után 1 hónappal az albumot bakelitlemezen is kiadták (ez az első olyan albuma a Papa Roachnak, amit bakeliten is megjelentettek). Fura, mert hát manapság már nem számít bevett szokásnak a bakelit-formátum. Arra is kíváncsi lennék, vajon hány embernek van még otthon bakelit-lejátszója... :) (Nekünk asszem sosem volt, maximum anyuméknak, még vlmikor nagyon régen; én is már a "magnókazettás-nemezedék" tagjaként nőttem fel.)
Az énekes, Jacoby Shaddix a "Papa Roach alap-elemeinek újrafelfedezéseként" határozta meg az új lemezüket. Némely szempontból visszalépés a gyökerekhez, azonban emellett lépést tartanak a modern metál/rock zenei újításokkal is. Az utóbbi nagylemezükön, a Metamorphosis-on eléggé elmentek poposabb/softrockosabb irányba... Az azelőtti, 2006-os The Paramour Sessions viszont eddig abszolút etalonnak számít nálam, ha Papa Roachról van szó. Ahogyan ők is mondták, a The Connection dalaiban nem fukarkodtak a billentyűs zenével, bátran nyúltak elektronikus effektekhez, így sokkal dinamikusabb, változatosabb anyagot sikerült összehozniuk, és "We have never sounded better." :) Van benne valami...
Tracklist:
01. Engage
02. Still Swingin (ft. Tylias)
03. Where did the Angels go? (ft. Downlink)
04. Silence is the Enemy
05. Before I Die
06. Wish You never met Me
07. Give Me back my Life
08. Breathe You In
09. Leader of the Broken Hearts
10. Not that Beautiful (ft. Shahnaz)
11. Walking Dead
12. Won't let up
13. As far as I remember
14. What's left of Me (Deluxe Edition Track)
15. 9th Life (Deluxe Edition Track)
Azt kicsit sajnálom, hogy a korábban szinte védjegyükké vált rap-betéteket mára már szinte teljesen elhagyta a zenéjéből a csapat... :/ Ettől eltekintve viszont tetszetős lemezt alkottak (azt hiszem, ezt kellőképpen alátámasztja, hogy mennyi dalt kiemeltem az albumról :D). Határozottan közelít a tökéleteshez. :)
Kedvenc dal terén három felvétel között vacilláltam: Still Swingin (leginkább ez a track emlékeztet a régi Papa Roachra, és ez volt az első, ami erről a stúdiólemezükről napvilágot látott), a Silence is the Enemy (az eleje ennek szokatlanul elektronikusra sikeredett, és kicsit Linkin Park-ízű, viszont nagyon szeretem :) egy energiabomba ez a dal, és talán a legkülönlegesebb az egész lemezen) és a Give Me back my Life (ez volt a legelső, amire rákattantam a The Connection dalai közül - megunhatatlan.)
De mivel ezúttal is csak egyet linkelhetek, így hát legyen ez:
Papa Roach - Give Me back my Life
Osztályzat: 10/9