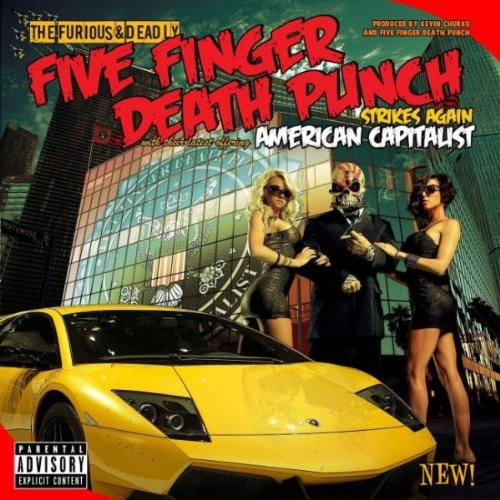 Sikerült az államvizsgám, szóval most már hivatalosan is végeztem a szakommal. :) Igaz, elég fura, hogy most már tényleg önálló meg felnőtt vagyok... Még szoknom kell. De végül is, ez az, amit akartam...
A feszültség levezetéséhez épp ideális lemezt hoztam. :D Még régebben nézelődtem youtube-on, és akkor botlottam bele a Five Finger Death Punch (vagy 5FDP) egyik dalába, a "The Pride"-ba, ami komolyan szerelem volt első hallásra, jóideig rá is voltam cuppanva. Aztán jött a lemez, és bebizonyította, hogy a 5FDP bizony jó! Sőt, több is, mint jó!
2005-ös megalakulásuktól kezdve 3 nagylemezt adtak ki, további két lemez pedig megjelenés előtt áll, de az ígéretek szerint idén mindenképpen a boltok polcaira kerül (az elsőnek a megjelenési dátuma várhatóan július 30 - egyfajta dupla cédé lesz, melyet két részletben fognak kiadni).
A zenekar nevét a klasszikus kung-fu filmekből nyerte (Kill Bill), ahol ez a kifejezés bizonyos halálos ütés-fajtát  jelent. A csapat magyar-vonatkozású: a gitárosuk Báthory Zoltán (akinek állítólag születési neve Garamszegi Zoltán, bár erre csak wikipédián találtam adatot, máshol ezt nem erősítették meg). Magyarországon született, de 1995-ben New Yorkba költözött, mert akkori bandájának lemezszerződést ajánlottak, a megjelenésből azonban mégsem lett semmi, és a csapat sem bizonyult hosszú életűnek. Ezután döntött úgy Báthory, hogy alapít egy zenekart, melynek (mint lelkes kung-fu rajongó, aki maga is űzi ezt a sportot) ő adta ezt a bandanevet is. Azóta is változatlanul fontos szerepet tölt be a gitárosi poszt mellett: ő a csapat egyik fő dalszerzője. Sikerült külföldön is megszilárdítania hírnevét, és hazánk szülötte napjainkra a metál-világ egyik legsikeresebb és legelismertebb személyisége.
Tracklist:
01. American Capitalist
02. Under and Over it
03. The Pride
04. Coming Down
05. Menace
06. Generation Dead
07. Back for more
08. Remember Everything
09. Wicked Ways
10. If I fall
11. 100 Ways to Hate
12. Under and Over it (remix) [iTunes deluxe edition]
13. The Pride (remix) [iTunes deluxe edition]
14. Remember Everything (remix) [iTunes deluxe edition]
15. 100 Ways to Hate (remix) [iTunes deluxe edition]
16. The Tragic Truth [iTunes deluxe edition]
17. Under and Over it (music video) [iTunes deluxe edition]
Mindenképpen megemlítendő az énekes, Ivan Moody erőteljes hangja, ami konkrétan mindent visz (számomra amúgy is ének és énekes nagyon fontos egy csapatban).
A dalok közül ezúttal is sokkal többet ki tudtam volna emelni, de próbáltam szűkíteni a kört. Viszont feltétlenül ajánlom a lemezről a Menace-t azoknak, akik a nagyon pörgős dolgokat szeretik inkább (engem mondjuk az ilyen ütemű/ritmusú dalok kifejezetten idegesítenek, hosszútávon nem bírnám hallgatni.. még szerencse, hogy azért a Menace "robogását" feloldja/enyhíti a refrénje). A Remember everything kedvence lehet azoknak, akik a lassabb dalokért vannak oda. Ivan hangja egyszerűen lenyűgöző ebben a dalban is: az ének legalább olyan jól megy neki, mint a hörgés, sőt! (pedig ez azért ritka, hogy valakinek mindkettő ugyanolyan jól menjen: többnyire aki üvölteni/hörögni pöpecül tud, annak általában az énekhanggal baja van, vagy épp fordítva). A remixek közül, ami nálam mindent visz, az a 100 Ways to Hate áthangszerelt változata.
Bár a lemezről elsőként az Under and Over it jött ki single-ként, ami sikeresnek is bizonyult, nálam mégsem ez a befutó, hanem inkább a lemez úgynevezett "listadala" (egy része a dalnak felsorolásból áll, erről kapta a nevét). A címe bár először azt gondolnánk, hogy "büszkeséget" jelent, mégis a dal szövegkörnyezetéből kiderül, hogy inkább "falka" jelentésben értendő. Ahogyan Báthory is nyilatkozott róla, ez a dal nem a rendszer ellen lázad, hanem leginkább azt hivatott hirdetni, hogy tegyünk a középszerűség ellen. Nekem meg inkább az jött le belőle, hogy ne kövessük a falkát ész nélkül (mint ahogyan a mai fogyasztói társadalomban: minden szirszart képesek eladni az embereknek, mert elhitetik velük, hogy az mennyire jó... Amerikában meg főleg sok az ilyen ember, aki mindent kanyar nélkül bevesz...). Ja, és ha még nem derült volna ki, hogy melyik dalról beszéltem, akkor linkelem is.:) Kedvenc.
"I've got the scars to prove it,
only the strong survive."
(The Pride)
Five Finger Death Punch - The Pride
Osztályzat: 10/8,5