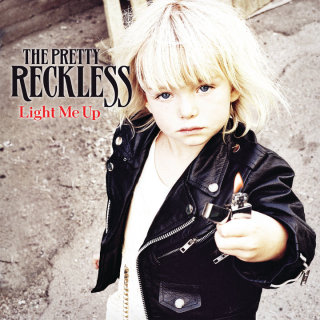 A Light Me Up mostanában az egyik legszívesebben hallgatott albumom. Ennek egyik oka, hogy a csapat énekesnőjének, Taylor Momsennek imádom a hangját, és igazából a stílusát is. Taylor elég sokrétű személyiség: amellett, hogy énekel, színészkedik és modellkedik is. Modell karrierje már kétéves korában kezdetét vette, szülői indíttatásra. Taylor ezt egyáltalán nem élvezte gyerekkorában: ahogyan ő nyilatkozott, emiatt nem voltak barátai sem, állandóan dolgozott és nem volt igazi élete. Érdekes, ennek ellenére még mindig modellkedik... Filmes karriert is befutott: sokaknak ismerős lehet, pl. a Grincs c. filmből (kislány korában ő játszotta Cindy Lou-t, ami egyébként egy zenés szerep volt), valamint évekkel később a Gossip Girl-ben kapta meg Jenny Humphrey szerepét. A sorozatot állítólag azért hagyta ott, mert szeretett volna zenei karrierjére koncentrálni: ahogyan ő is mondta, sokáig színészkedett, megszerette, mert színészkedni könnyű, de a zene sokkal személyesebb - és talán már épp ez hiányzott neki. Mindenesetre a bemutatkozó lemeze, a Light Me Up kifejezetten szuperül sikerült.
No de hogy ne csak Taylor-ról essen szó: a The Pretty Reckless nevezetű formáció 2009 óta él. Eredetileg a The Reckless nevet vették fel, de jogi problémák miatt kénytelenek voltak megváltoztatni. Zenéjükre állítólag leginkább a Beatles, az Oasis és a Nirvana zenéje volt hatással, személyileg pedig Kurt Cobain és Joan Jett. Az alapító tagok közül már csak Taylor van a csapatban (aki az énekesnői poszt mellett ritmusgitáron is játszik), jelenlegi zenésztársai 2010-ben csatlakoztak: Ben Phillips (szólógitár, háttérvokál), Mark Damon (basszusgitár), Jamie Perkins (dob).
Legelőször a My Medicine-t hallottam tőlük, és bár a videója borzalmas, a zenét azért szeretem (lecsúszott k...ák vonaglanak benne, és hasonlók... hát lehet, hogy megy a számhoz, de komolyan, gusztustalan és igénytelen... -.-). Aztán meg az Under the Watert, bár ez már későbbi dal, ezen a lemezen nem is szerepel, mindenesetre nagyon szeretem.
Tracklist:
01. My Medicine
02. Since You're Gone
03. Make Me Wanna Die
04. Light Me Up
05. Just Tonight
06. Miss Nothing
07. Goin' Down
08. Nothing left to Lose
09. Factory Girl
10. You
A hangzás elképesztő: dögös, kicsit őrült, valószínűleg tényleg Taylor személyiségét tükrözi. :)
Leginkább három kedvencet tudnék róla kiemelni: a "Make Me Wanna Die"-t, a "Just Tonight"-ot és a lemez záródalát, a "You"-t, ami a maga akusztikus voltában egyszerűen tökéletes. Viszont mindent összevetve, nálam ez az abszolút lemezkedvenc:
The Pretty Reckless - Just Tonight
Osztályzat: 10/9