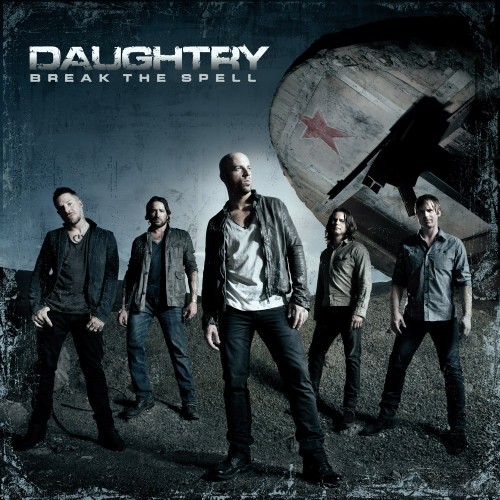 2011 novemberében érkezett a Daughtry harmadik nagylemeze, ami kevesebb, mint egy hónap alatt hivatalosan is elérte az arany-státuszt. A csapat (elmondásuk szerint) kicsit másabb zeneiségre törekedett, mint amit az előző két lemezükön kaptunk tőlük (de ez nem meglepő: a legtöbb előadó/csapat ezt a célt tűzi ki maga elé a lemezük készítésekor). Igazából én ennek ellenére semmi különlegeset nem észleltem a lemezen, de lehet, hogy ezzel egyedül vagyok...
A zenekar tagjai a lemez készültekor:
- Chris Daughtry (szóló ének, ritmusgitár)
- Josh Steely (szólógitár, háttérvokál)
- Brian Craddock (ritmusgitár, háttérvokál)
- Josh Paul (basszusgitár, háttérvokál)
- Robin Diaz (dobok)
A megjelenés után majd' 1 évvel, 2012. szeptemberében Josh Paul bejelentette, hogy elhagyja a bandát. Bár túl sokat nem tudunk arról, hogy mi állt a kilépése hátterében, a nyilatkozatából mégis az derül ki, hogy nem haraggal váltak el: "Eljött az idő, hogy leköszönjek, és a csapat nélkülem folytatódjon. Ez egy nagyon nehéz döntés volt, mert ezek a srácok nem pusztán csapattársaim, de a testvéreim is."
Tracklist:
01. Renegade
02. Crawling Back to You
03. Outta My Head
04. Start of something Good
05. Crazy
06. Break the Spell
07. We're not gonna Fall
08. Gone Too Soon
09. Losing My Mind
10. Rescue Me
11. Louder Than Ever
12. Spaceship
Nem tudom, miért nem sikerül igazán közel kerülnie hozzám a Daughtry zenéjének... :/ Szívesen hallgatom, mert egyrészt Chris hangját szeretem, és szerintem ő egy igazán tehetséges énekes (amellett, hogy számomra még mindig olyan a srác, mintha Vin Diesel külsejét és Chad Kroeger énekstílusát összegyúrták volna 1 személybe :D), másrészt sokszor kifejezetten dallamosabb rockzenére vágyom, és olyankor egyértelműen Daughtry-lemezért nyúlok. Mert dúdolható, kellemes zenét játszanak. Csak sajnos ennél ez se több, se kevesebb... Annyira várnék már tőlük valami igazán átütőt, ami annyira megérint, hogy a szavam is elakad... :(
De még van remény: cirka 2 hét múlva, november 19.-én érkezik a negyedik lemezük, "Baptized" címmel. Meglátjuk, azon mit sikerül majd összeügyeskedniük, mindenesetre reménykedem, hátha majd most...
...de visszakanyarodva a szóban forgó lemezre, bár szívesen hallgatom pl. a Renegade-et (tetszik benne ez az erőteljes dob és elektromos gitár, a legtöbb dal ehhez képest lágyabbra sikerült), a Losing My Mind-ot (a lassabb, lírikusabb dalok között egyértelműen ez viszi nálam a pálmát) és a címadó Break the Spell-t is (kifejezetten szeretem a verse-részét - néha csak ennyi is elég ahhoz, hogy egy egész dalt megszerettessen velem... sokszor elegendő csak egy darabkáját szeretnem a dalnak :) ), mégis ami igazán megtetszett az albumról (talán azért, mert úgy érzem, ez kissé kilóg a sorból, és ez tetszik :) ) :
Daughtry - Outta My Head
Ebből a dalból készült egy viszonylag puritán verzió is, amiben Chris énekel és Brian Craddock gitározik. Ezt is érdemes megnézni. :) http://www.youtube.com/watch?v=jVkH71SkxeE (És az a durva, hogy tényleg csak ének+gitár, és mégis majdhogynem jobb is, mint a dal hivatalos album-verziója... o.O)
Az eggyel korábbi albumukhoz képest nálam ez úgy összességében gyengus... :/ Bár most is ugyanannyi dalt sikerült kijelölnöm, mint akkor, mégis azok a dalok sokkal közelebb kerültek hozzám. Úgy érzem, ezt most túlfinomkodták, több pörgősebb, kiemelkedő dal kellett volna, ezt nagyon hiányoltam... Számomra ez így nagyon egysíkú, ennél többre nem tudom értékelni. :/ Majd legközelebb - reméljük...
Osztályzat: 10/7