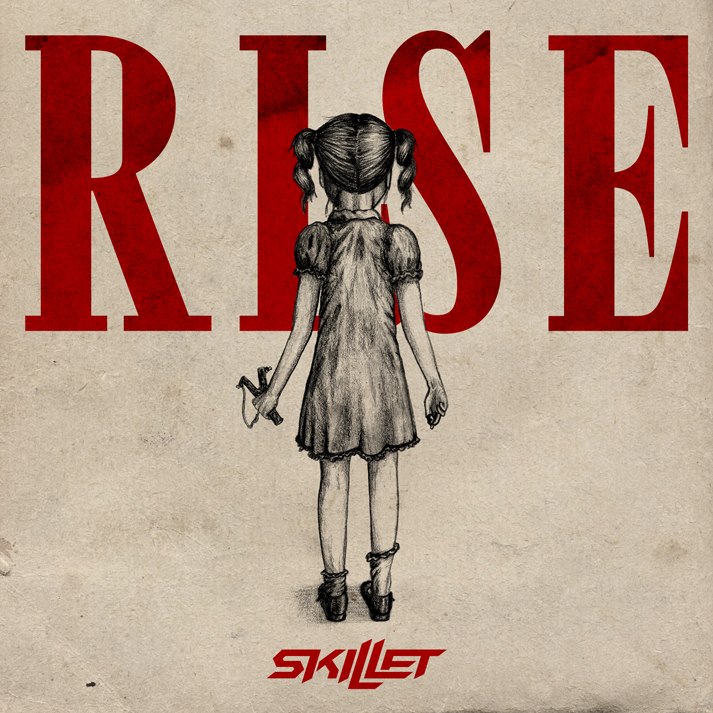 Indítsuk is a 2014-et a Skillet-tel. :) Valamiért már a megjelenés óta halogattam ezt a lemezt, kedvem sem nagyon volt a Skillet-hez, aztán most, kevéssel szilveszter előtt gondoltam egyet, és elővettem, hogy belehallgatok már (amiket eddig linkeltek ismerősök az albumról, nem igazán nyerte el egyik sem a tetszésemet). Kapásból bele is futottam a "Fire and Fury" c. dalukba, ami nyomban meg is tetszett, nem gyengén. Egyből meg is fogadtam, hogy ez lesz az a lemez, amivel nyitni fogom az új évet a blogomon. Azóta már oda-vissza végighallgattam a lemezt, jó sokszor, szóval megérett arra az idő, hogy végre ajánlani is tudjam. Tényleg. :)
A Rise az egyik legelismertebb keresztény rock csapat, a Skillet kilencedik stúdiólemeze. 2013 júniusában került a boltok polcaira, alig fél év alatt közel 200 ezer példányban kelt már el.
Ez az első lemez, amin Seth Morrisont hallhatjuk szólógitáron a basszeros-vokálos John Cooper, a ritmusgitáros-billentyűs-háttérvokálos Korey Cooper és a dobos-vokálos Jen Ledger mellett. Seth egyébként Ben Kasica-t váltotta a Skillet csapatában: Kasica 10 év után vált ki a csapatból.
A lemezről a "Sick of it" c. dal látott legelőször napvilágot, a SoundCloud-on majd az iTunes-on is. Ezután single-ként megjelent az "American Noise", másodikként pedig a címadó "Rise" is.
Tracklist:
01. Rise
02. Sick of it
03. Good to be Alive
04. Not gonna Die
05. Circus for a Psycho
06. American Noise
07. Madness in Me
08. Salvation
09. Fire and Fury
10. My Religion
11. Hard to Find
12. What I Believe
13. Battle Cry (Deluxe Edition Bonus Track)
14. Everything goes Black (Deluxe Edition Bonus Track)
15. Freakshow (Deluxe Edition Bonus Track)
Le szeretném szögezni, hogy szerény véleményem szerint Jen egy kincs ennek a csapatnak: szuper hangja van, teljesen feldobja a dalokat; nélküle valahogy sokkal unalmasabbak lennének a Skillet dalai. Jobban szeretem azokat a dalokat, ahol a háttérvokálnál több énekbetét jut neki (a helyükben én több szerepet szánnék ennek a tehetséges leányzónak). John rekedtes, karcosabb hangjával párosítva meg pláne iszonyat jól szól ez a tiszta, éles női hang. És élőben sem sokkal rosszabbak ám, mint felvételen: http://www.youtube.com/watch?v=zO0qrIHOUZA
Nem is húzom tovább az időt, rátérek az albumkedvencre: több dal között is vacilláltam. Egyik a Freakshow, ami bónuszként került rá az album deluxe-verziójába. Imádom a dal pörgését, ritmusát, nagyon ki lett találva. Visszafelé haladva, a My Religion annyira másabb annál, mint amit már megszoktunk a Skillettől, hogy muszáj voltam bevenni a legjobbak közé ezt is. :) A Fire and Fury (mint ahogy már az elején említettem) nagyon megtetszett már elsőre (nem titok, hogy ehhez jócskán köze van Jen vokál-részeinek, ahogyan a Salvation esetében is. A Not gonna Die egy tipikus Skillet-dal, hangszerelésileg, zenei felépítést tekintve is; abszolút egyik kedvencem. Egészen jól sikerült a címadó Rise is, bár ez azért annyira mégsem tetszik...
Mindent összegezve, a legeslegjobb dal a lemezen, szerintem (kevéssel körözve le a Not gonna die-t és a Freakshow-t): 
Skillet - Fire and Fury
Eddig magasan ezt a lemezt tartom a Skillet eddigi legjobbjának, persze csak az általam eddig hallgatottak közül - mert hát ki tudja, miféle kincsek rejtőznek még a többi lemezükön: bátran merem ígérni, hogy hamarosan megtudjuk; igyekszem még idén az összes korábbi, eddig kimaradt albumukról blogolni. :)
Osztályzat: 10/9