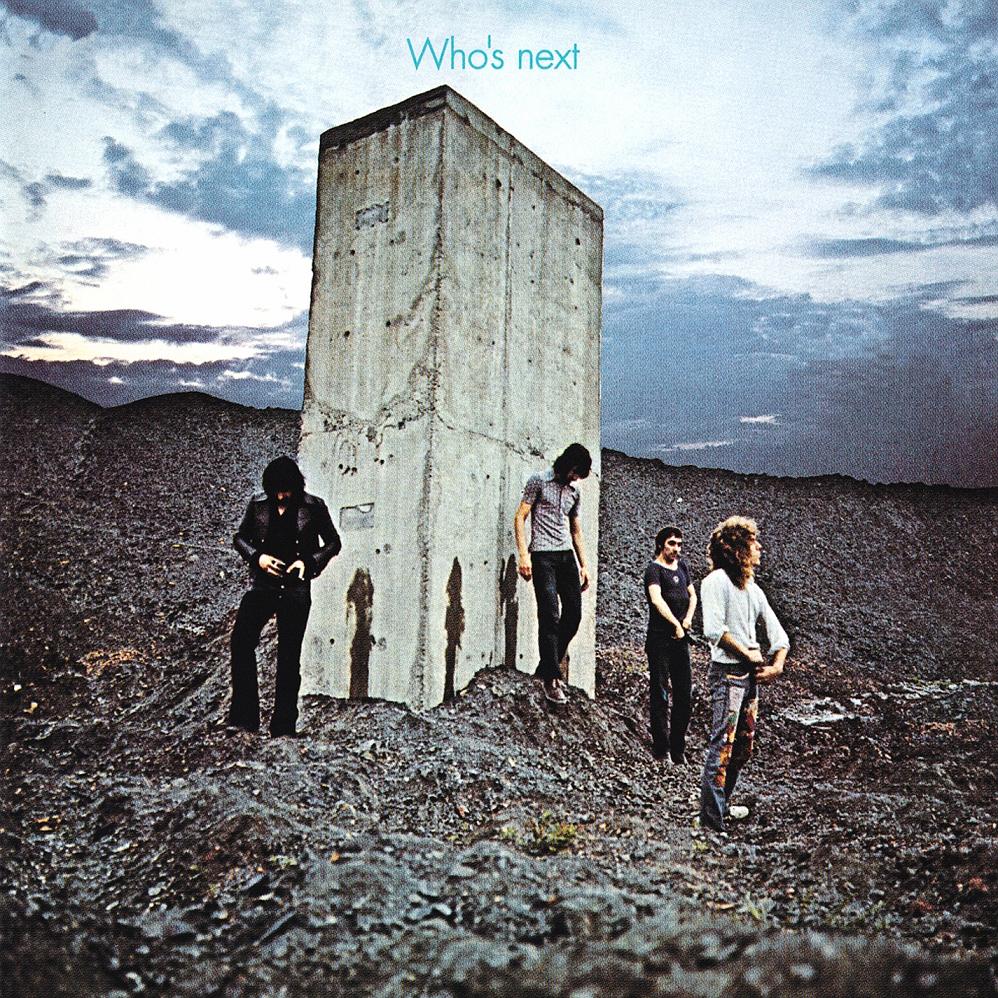 1971-ből a The Who elnevezésű brit csapat 5. nagylemezét választottam. Nagyon ciki, de én most ismertem meg az együttes zenéjét, korábban még csak nem is hallottam róluk... :$ Ez már csak azért is gáz, mert a The Beatles és a Rolling Stones mellett a The Who volt a korszak legismertebb, legnagyobb hatású angol rockcsapata.
Amúgy több dal is ismerős volt erről az albumról: kezdve a "Behind Blue Eyes" c. szerzeménnyel, amit én konkrétan a Limp Bizkit feldolgozásában ismertem eddig (és őszintén: azt sem tudtam, hogy ez csak feldolgozás... o.O). Aztán ahogyan elkezdtem az elejéről hallgatni a korongot, már rögtön a kezdő dal, a "Baba O'Riley" is meglepett, ez ugyanis a CSI c. sorozat theme-zenéje (ahogyan a "Won't Get Fooled Again"-ből is vannak átemelve a sorozatba és a theme-be bizonyos effektek/dalrészletek).
A The Who gyökerei 1964-re nyúlnak vissza, amikor is az ugyanabba az iskolába járó és már együtt zenélgető Pete Townshend (gitáros) és John Entwistle (basszeros) duójához csatlakozott énekesként Roger Daltrey, majd a tökéletes dobost is megtalálták Keith Moon személyében. Kezdetben The Detours néven futottak, de kiderült, hogy ilyen néven már működik egy csapat, így kénytelenek voltak megváltoztatni nevüket The Who-ra.
Egy koncert alkalmával Townshend véletlenül eltörte a gitárjának a nyakát (túl alacsony volt a mennyezet), és feldühödve azon, hogy a közönség ezt milyen viccesnek találja, szét is verte a gitárt, aztán egy másikkal folytatta a zenélést. Ezután szinte védjegyévé vált a csapatnak, hogy a koncertjeiken garantáltan széttörtek néhány hangszert (nem értem, egy zenész hogy képes hangszert törni...). Ki akartak valamivel tűnni a többi csapat közül; hát ezzel sikerült...
A "Who's Next"-et 1971 nyarán adták ki, és a csapat legsikeresebb albumának bizonyult, hazájukban listavezető lett. A lemez jelentősége azért is nagy, mert a The Who rockdalokban használt szintetizátort: ilyen effektek használatára egészen addig nem volt példa rock-berkekben.
Tracklist:
01. Baba O'Riley
02. Bargain
03. Love Ain't for Keeping
04. My Wife
05. The Song is Over
06. Getting in Tune
07. Going Mobile
08. Behind Blue Eyes
09. Won't Get Fooled Again
A The Who sem épp a visszafogottságáról volt híres, elég ha megnézzük a borítót (a fotó egyébként egy szénbányánál készült), rajta a négy csapattag, vizelés után... :D Már ez is csöppet polgárpukkasztó (bár állítólag akkor épp nem kellett nekik, így csak vizet locsoltak az építmény falára, hogy úgy tűnjön, mintha. No comment... :D ).
No de el is érkezett végre az idő, hogy linkeljem a szerintem legjobb dalt az albumról. Erre eléggé nagy eséllyel indult a "Bargain", nagyon megszerettem ezt a számot, nem tudom úgy meghallgatni, hogy ne dúdolásszam. :) Aztán itt van még a "Baba O'Riley", bár ennek az elején ezt a "szinti-szólamot" már kissé unalmasnak találom, majdnem 1 percen keresztül, hamarabb is bekapcsolódhattak volna azzal a zongorával...
...viszont ami a legközelebb áll hozzám, és amit leginkább szeretek a lemezről:
The Who - Behind Blue Eyes
Osztályzat: 10/7,5