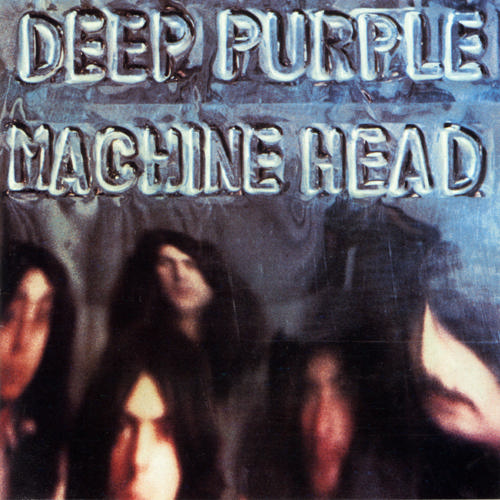 Sikerült 1972-ből is egy klasszikusnak számító lemezt kiválasztanom, szintén egy brit csapattól. A Deep Purple neve bár ismerősen cseng, mégsem tudtam semmit sem a csapatról, csak annyit, hogy egykor tagja volt (méghozzá alapítótagja) Ritchie Blackmore, akiről a Blackmore's Night-lemez kapcsán már írtam. Blackmore mellett (aki gitárosként vett részt a csapat életében) még Ian Gillan (vokálos, aki a Black Sabbathban is énekelt), Roger Glover (basszusgitáros), Ian Paice (dobos) és Jon Lord (orgonista) képezték a Deep Purple "magját" és legendás felállását, bár csak 1969 nyarától működtek ők öten így együtt; azelőtt az 1968-as megalakuláskor még Nick Simper töltötte be a basszeros posztját, az énekesük pedig Rod Evans volt.
Bár sikerült világhírnévre szert tenniük, és maradandót alkotniuk (elég, ha csak a "Smoke on the Water" legendás nyitó-riffjére gondolunk; ugye, ismerős? :) ), mégis 1976-ban feloszlott a zenekar. 1984-ben álltak ismét össze, de nem bizonyult hosszú életűnek ez az újrakezdés sem (legalábbis ebben a felállásban), tagcserék következtek, napjainkra pedig a "híres ötösből" már csak hárman maradtak a csapatban: Gillan, Glover és Paice (Jon Lord 2012-ben halt meg: előbb hasnyálmirigyrákkal kezelték, aztán tüdőembóliát kapott. 71 éves volt).
Mindenesetre úgy tűnik, a zenélés iránti kedvük töretlen (csak halkan jegyzem meg, hogy egyébként a tagok zöme már közel 70 éves, úgyhogy még úgy pluszban is bámulatosak), továbbra is készítik az új dalokat, és dobják piacra az albumokat: eddig 19 nagylemezük jelent meg, legutóbbi 2013-ban. A Machine Head a 6. stúdiókorongjuk, és tagadhatatlanul az egyik legsikeresebb is.
Tracklist:
01. Highway Star
02. Maybe I'm a Leo
03. Pictures of Home
04. Never Before
05. Smoke on the Water
06. Lazy
07. Space Truckin'
Bár a csapat tagjai hevesen tagadják, és ragaszkodnak a "hard rock" műfaji besoroláshoz, mégis szó ami szó, tényleg eléggé heavy metalos lett ez a lemez, emellett érződik rajta nem gyengén blues és klasszikus zenei befolyásoltság is.
Már az album rögzítése is elég kalandosra sikeredett: az énekesük májgyulladása miatt nemcsak a helyszínt kellett megváltoztatniuk, de még az amerikai turnéjukat is meg kellett szakítaniuk. Érdekesség, hogy a csapat legismertebb dala, a "Smoke on the Water" zenei alapja "Title No. 1"-ként lett rögzítve; későbbi címét Roger Glover "álmodta meg": egy nap úgy ébredt, hogy ezt a négy szót emlegette hangosan. Ezután Gillan a cím alapján megírta a dal szövegét, és létrejött a Deep Purple kétségkívül egyik leghíresebb dala. :)
Az album felvételei (mivel Gillan betegeskedése miatt módosítani voltak kénytelenek az eredeti tervüket) egy svájci hotelben készültek el. Mivel már egy korábbi helyről kitették őket, mert a lakosok panaszkodtak a zajra, így, tanulva a hibájukból, ebben a hotelben már trükköztek kicsit: hangszigetelésre a bútorokat és matracokat használtak. Hát, mindenképpen megérte a bajlódást, mert miután nagy nehezen megjelentették a korongot, a közönség és a kritikusok egyaránt imádták, és "minden idők egyik legalapvetőbb hard rock albumának" bélyegezték (sőt, még Ozzy Osbourne 10 kedvenc lemeze között is szerepelt, ez pedig elég nagy elismerés egy pályatárstól :) ).
Nem gondoltam volna, hogy így járok, de mégis: már a legjobb dalok számlistán való kijelölgetésénél is bajban voltam. :) Most hallottam így kompletten egyben ezt a lemezt először, és annyira tetszenek ezek a számok, hogy őrület! :)) Bocsi, de számomra a Deep Purple simán veri a Black Sabbath-ot, amit annyira istenítenek... A számlista is szívem szerint tiszta piros lenne... :D Szuper dalok, nem is értem, miért nem hallgattam én ezt eddig...
A nagy kedvenc a lemezről (némi töprengés után, mert kedvenc még a 3. és az 5. is):
Deep Purple - Highway Star
Osztályzat: 10/8