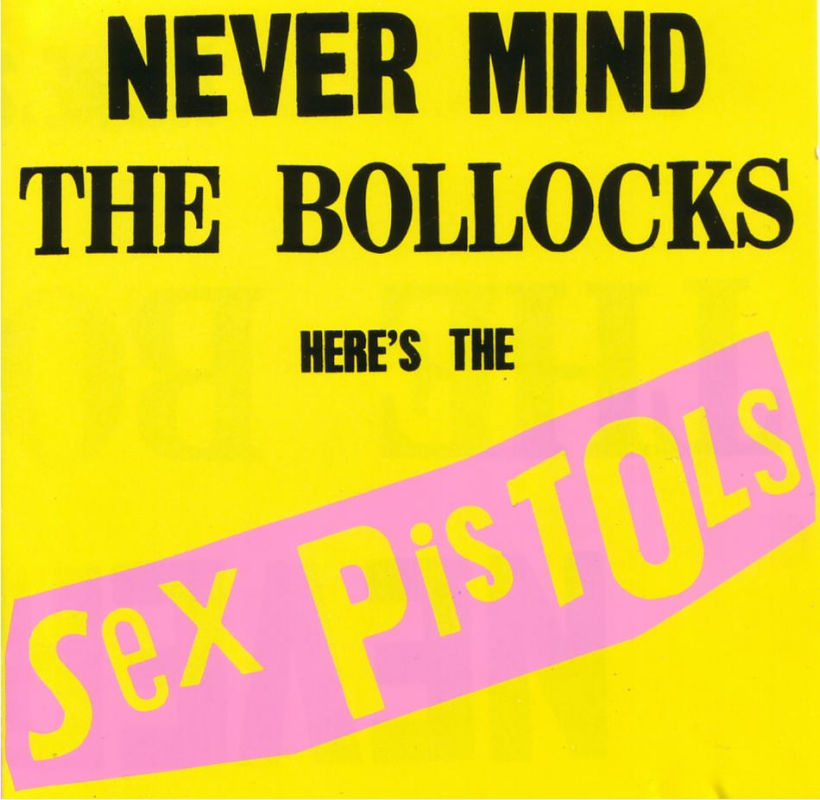 1977-ből egy elég... hogy is fogalmazzak? ... érdekes lemezt sikerült kiválasztanom. Még az elején, mikor hallgatni kezdtem, biztosra vettem, hogy mi ketten nem leszünk jóban a Sex Pistols-szal... Hát, nem is tévedtem...
Az angol punkcsapat 1975-ben alakult Johnny Rotten (születési nevén John Lydon) szólóénekes, Paul Cook dobos, Glen Matlock basszeros-háttérvokálos és Steve Jones gitáros-háttérvokálos részvételével. Később Matlock helyét '77 és '78 között Sid Vicious töltötte be (aki aztán 21 évesen, '79-ben drogtúladagolásban halt meg). Vicious minden idők legvitatottabb zenésze, ugyanis basszusgitárosi tudása szinte egy minimális szintet sem ütött meg, így hát talány, hogy miért is került be egyáltalán az együttesbe... Ezen a lemezükön is egyedül a "Bodies"-ban működött közre, már csak azért is, mert a felvételek idején épp sárgasággal kezelték kórházban, de csapattársai elmondása alapján, ha akart volna se tudott volna basszerozni az albumon, enyhén szólva szegényes zenészi tudása miatt. Így hát a basszusgitár-részeket is Steve Jones játszotta el (kivéve még az "Anarchy in the U.K."-t, ahol még Matlock játszott).
A csapat mindent összevetve nem volt valami hosszú életű: a Never Mind... az első és egyben egyetlen stúdiólemezük, és 1978-ban a csapattagoknak el is váltak útjaik. Ezután még néhányszor összeálltak egy-egy album erejéig: készült még néhány válogatáslemez és live-album.
Tracklist:
01. Holidays in the Sun
02. Bodies
03. No Feelings
04. Liar
05. God Save the Queen
06. Problems
07. Seventeen
08. Anarchy in the UK
09. Submission
10. Pretty Vacant
11. New York
12. EMI
Bár a zenekar fennállása csupán cirka 2 és fél év volt, hatásuk mégis megkérdőjelezhetetlen: ők indították el az Egyesült Királyságban a punkmozgalmat (az sem meglepő, hogy ezután szinte minden alakuló punkcsapatot részben ők inspiráltak, és inspirálnak mai napig). Koncertjeiket, dalaikat is zűrzavar követte, többször is összeütközésbe kerültek a hatóságokkal a koncertjeiken, médiamegjelenésüket botrány övezte (egy ízben durva szóváltásba keveredtek élő adásban egy műsorvezetővel), és még az EMI kiadó is elpártolt tőlük minősíthetetlen és polgárpukkasztó viselkedésük miatt.
Nos hát nekem sem lett kedvencem se az album, se a csapat. Az énekesük affektálása olyan szinten zavart a track-ekben, hogy az valami hihetetlen. És ezek után, amit mindenfelé lehet róluk olvasni, a legkisebb mértékben sem tudok semmivel sem azonosulni, ami velük kapcsolatos... A való életben sem szeretem az ilyen fazonokat. A zenéjükben sincs igazából semmi különleges, ami miatt szeretnem kéne... Úgyhogy bocs minden esetleges Sex Pistols-fantól...
Ha már muszáj egyet kiemelni, akkor a viszonylagos legnormálisabb zene a lemezről mindent összevetve ez:
Sex Pistols - Holidays in the Sun
Osztályzat: 10/5,5