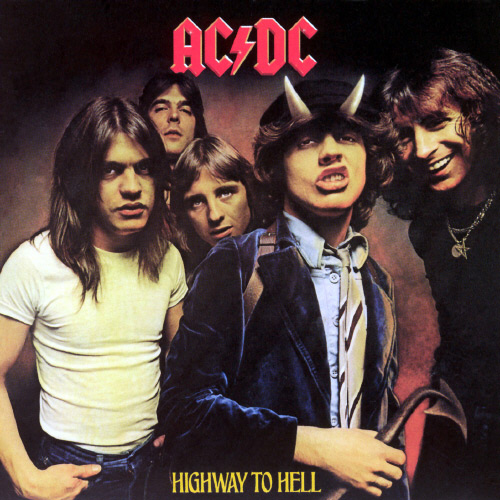 A '70-es évek zárásaként szintén egy klasszikus lemezre esett a választásom, leginkább a címadó "Highway To Hell" dal miatt (nem túl sok AC/DC dalt ismerek, de felcsillant a szemem, hogy na ezt pont igen, úgyhogy ezért maradtam inkább ennél a lemeznél).
Ennek a fejezetnek ugyan vége a blogomon, mindenesetre én élveztem ezt a kis "zenei kirándulást", visszatekintést közel 45 évvel ezelőttre, és az azt követő 10 évre. Csak remélni tudom, hogy az épp ide tévedő látogatóimnak is sikerült kicsit meghoznom a kedvüket a régi nagyok zenéjéhez is, feltéve, hogy eddig még nem hallgatták őket. :) Én mindig is nagyon idegenkedtem tőlük, biztos voltam benne, hogy nem tetszene, úgyhogy legtöbbször a 2000 után megjelent albumokat hallgattam. Hát, ezentúl biztosan szakítok majd ezzel a szokásommal: néhány kedvencre most is sikerült szert tennem, és ki tudja, miféle kincseket rejtenek majd a nyolcvanas-kilencvenes években megjelent lemezek is. :) 
De visszakanyarodva fő témánkra: az AC/DC egy 1973-ban alakult ausztrál rockcsapat. Nevük jelentése: "váltakozó áram/egyenáram"; angolul "alternating current/direct current". A zenekar alapításának gondolata egy testvérpár, Malcolm Young (ritmusgitár, háttérvokál) és Angus Young (szólógitár) fejéből pattant ki (akik egyébként még mindig tagjai az együttesnek).
A Highway To Hell a hetedik stúdiólemezük. Ezen már a Young-testvérek mellett zenélt Cliff Williams (basszeros; 1977-ben csatlakozott a csapathoz, és azóta is AC/DC-tag), Phil Rudd (dobos; 1975-től kisebb megszakításokkal ő is mai napig részét képezi az együttesnek) és Bon Scott énekes. Scott 1974-ben lett tagja az AC/DC-nek, együtt pedig legendás sikereket értek el. Egészen 1980-ig, amikor is egy átmulatott éjszaka után Bon Scott örökre elaludt az egyik barátja autójának hátsó ülésén. A halál okaként balesetet állapítottak meg: alkoholmérgezést (és valószínűleg fulladásos halált az alkohol okozta hányástól). A Highway To Hell albumuk már csak azért is mérföldkő a zenekar életében, mert ez volt a legutolsó album, amit Bon Scottal elkészítettek. Személyével egy nagyszerű énekest és frontembert veszített el a világ...
Tracklist:
01. Highway to Hell
02. Girls Got Rhythm
03. Walk all Over You
04. Touch Too Much
05. Beating Around the Bush
06. Shot Down in Flames
07. Get It Hot
08. If You Want Blood (You've Got It)
09. Love Hungry Man
10. Night Prowler
A lemezen szereplő összes dalt (mint mindig, most is) a Young-testvérek írták, Bon Scottal karöltve.
Érdekesség, hogy a lemez utolsó dalában, a "Night Prowler"-ben a dal végén, az album zárásaként elhangzik a "Shazbot, na-nu na-nu" kifejezés, amit egyébként egy akkoriban futó amerikai szituációs komédia, a "Mork & Mindy"-ből vettek át (ez a kifejezés a főszereplő Mork szájából elég gyakran elhangzott a sorozatban).
A produceri munkákat eddigi lemezeiken Harry Vanda és a Young-tesók egyik bátyja, George Young végezték, ám most Robert Lange került a produceri székbe. Egyébként George szerepe is óriási abban, hogy egyáltalán megalakult az AC/DC: mikor családjukkal még gyerekkorukban Skóciából Ausztráliába költöztek, George alapított egy zenekart. Ezen felbuzdulva kezdett zenei karrierbe két öccse, Malcolm és Angus.
Nos, ami engem és az AC/DC-t illeti: határozottan megszerettem a zenéjüket. :) Igaz, a Highway to Hell már kicsit elhomályosul pl. a Touch Too Much vagy a Love Hungry Man árnyékában, amik nekem személy szerint jobban tetszenek (az is lehet, hogy csak a Highway to Hell-t kezdem már unni: ha AC/DC-ről van szó, akkor mindenhol csak ez a dal megy, minden tehetségkutatóban legalább ketten ezzel a számmal indulnak, stb... Pedig így, túl a számomra első lemezükön, elmondhatom, hogy igenis léteznek még nagyon jó AC/DC dalok ezen kívül is... Csak kisebb publicitást kapnak sajnos, mint a H.t.H.).
Negatívumot nem is nagyon tudnék mondani. Esetleg annyit, hogy sok dalban a refrén kissé egysíkúra sikeredett: többnyire ugyanaz a pár sor van ismételgetve (mint pl. Girls Got Rhythm, Highway to Hell, Walk all Over You, Love Hungry Man, stb...)
Nincs is más hátra, mint a legjobb dalt kiemelni. Hát, esélyes, hogy sokan nem fognak velem egyetérteni, mindenesetre számomra ez a legjobb erről az albumról:
AC/DC - Touch Too Much
Osztályzat: 10/8,5