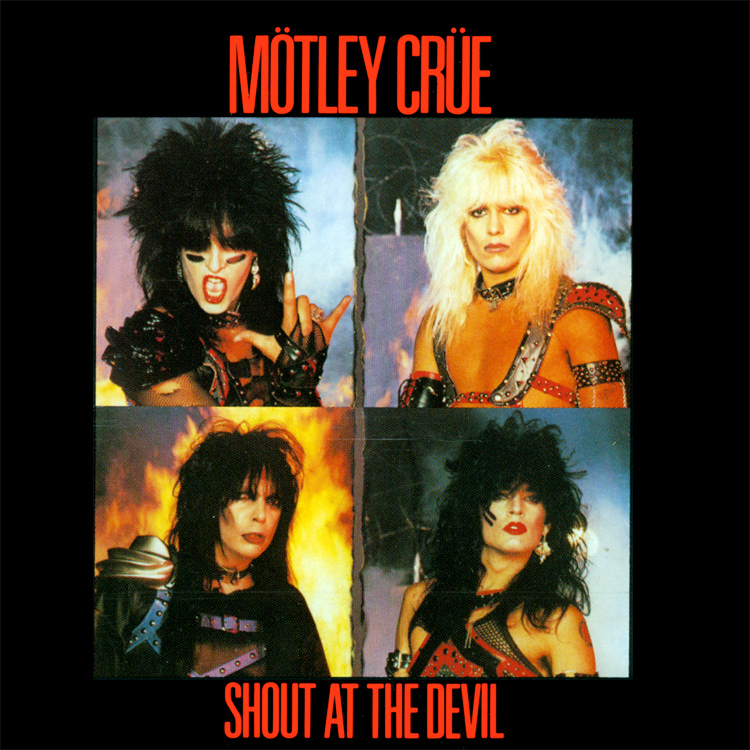 Kicsit én is elmentem most szünetre, csomó dologgal el vagyok/voltam maradva, és most is épp mást kéne csinálnom, de már nem akartam tovább halogatni a blogomat sem, úgyhogy jöjjön ismét egy kis visszatekintés a '80-as évek rock/metál világába. A Mötley Crüe második nagylemezét választottam, leginkább azért, mert ezt a csapatnevet is sokszor hallottam már, és ideje, hogy végre zenét is tudja társítani a zenekarnévhez.
A zenekar neve (Motley Crew, ha nem számítjuk a díszítésnek szánt umlautokat, amit egyébként a Löwenbräu sör mintájára biggyesztettek a nevükre) "zűrös bandát" vagy "tarkabarka bandát" jelent. A későbbiekben bebizonyosodott, hogy ez a név bizony nagyon is illik rájuk: a csapat tagjai híresek voltak élvhajhász életmódjukról, gyakran ujjat húztak a törvénnyel, meggyűlt a bajuk a rendőrséggel is, nevük szinte összeforrt az alkoholizmussal és a drogfogyasztással: a basszeros Nikki Sixx például majdnem belehalt a drogfogyasztásba, heroin túladagolása volt, amitől a klinikai halál állapotába került, de sikerült visszahozni az élők közé. Érdekesség, hogy Sixx '86 és '87 között napi rendszerességgel naplót vezetett heroin-függőségéről. Írásait 2006-ban publikálta egy könyv alakjában (The Heroin Diaries: A Year in the Life of a Shattered Rock Star címmel), és 2007-ben "Sixx: A.M." elnevezésű csapatával egy "soundtrack"-et adtak ki, a könyvhöz kapcsolódóan.
Még az alakulásukról néhány szót szólva: a csapat 1981-től létezik, amikor is Nikki Sixx és a dobos Tommy Lee zenekar alapítására adták a fejüket, Greg Leon énekessel, aki azonban hamar ki is vált a bandából. Később csatlakozott Mick Mars gitáros és Vince Neil énekes. Ritka az ilyen, de a Mötley Crüe legénysége nagyjából stabilnak mondható: Mars és Sixx a kezdetektől kitartottak zenekaruk mellett, Lee viszont '99-ben lépett ki szólókarrierje miatt, ahogyan Neil Mötley-s pályafutásában is voltak több éves szünetek egészen 2004-ig, amikor is a csapat újra egyesült az eredeti Mars-Sixx-Lee-Neil felállásban. Legutóbb 2008-ban adtak ki lemezt "Saints of Los Angeles" címmel.
Tracklist:
01. In the Beginning
02. Shout at the Devil
03. Looks That Kill
04. Bastard
05. God Bless the Children of the Beast
06. Helter Skelter
07. Red Hot
08. Too Young to Fall in Love
09. Knock 'Em Dead, Kid
10. Ten Seconds to Love
11. Danger
A Shout at the Devil a megjelenése idején nagy port kavart: a cím és a pentagram borítón való szerepeltetése miatt azzal vádolták a csapatot, hogy a hallgatókat a Sátán imádására ösztönzik (én direkt egy másik borítót használok a bejegyzésemhez). Talán ezért is számít a lemez áttörésnek: botrány ide vagy oda, a nemzetközi ismertséget bizony ez az album hozta meg a csapatnak.
Én igazából maximálisan elégedett vagyok a lemezzel, kellően dallamos, jóféle heavy metal, glam album. :) Nem is gondoltam, hogy ennyire fog tetszeni, míg nem hallgattam meg a Too Young to Fall in Love-ot. Ez a legslágergyanúsabb dal az egész lemezen (és nem is csak "gyanúsabb", ugyanis valóban ez a lemez és a Mötley Crüe egyik legismertebb, legkedveltebb dala). Kellemes meglepetés volt az ötödik track, nekem ez is nagyon tetszett, csak azt sajnálom, hogy ilyen rövidke... :( Ezt el bírtam volna percekig hallgatni... Így viszont maradt a replay gomb szorgos nyomogatása. De igazából mindegyik kijelölt track nagyon bejövős, csak ajánlani tudom. :)
Ami viszont számomra az album legjobbja, az ez, és nem csak azért, mert ezt hallottam tőlük legelőször: 
Mötley Crüe - Too Young to Fall in Love
Osztályzat: 10/9