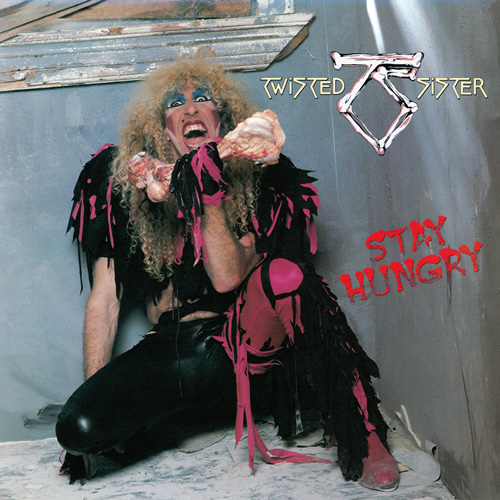 Valahogy továbbra sem megy a gyakrabban blogolás ezekről az "időutazós" lemezekről... :/ Ha így haladok, majd valamikor június elejére végzek csak a '80-as évekkel, pedig nem így terveztem - igyekszem azért valahogy begyorsítani magam.
1984-ből egy Twisted Sister-lemezt hoztam. Ismét egy olyan banda, akiket már sokszor hallottam emlegetni, egyébként meg nem nagyon tudom hová tenni őket; pedig ezen a lemezükön is jócskán van ismert dal, amit még én is hallottam itt-ott, csak épp nem tudtam, hogy ez Twisted Sister. :D
Pályafutásuk 1972-ben indult, New York-ból. Többször is feloszlottak, majd újra-alakultak, legutóbb 2003-ban, azóta ismét aktívak, bár nagylemezt idestova 10 éve, 2004-ben adtak ki legutóbb.
Silver Star néven indult a zenekar, de pár hónapnyi zenélés után átkeresztelkedtek Twisted Sister-re (a gitáros Jay Jay French nyomására, aki utálta a Silver Star nevet). A tagok ezután sorra léptek a távozás mezejére, az akkori felállásból csak French maradt, aki hamarosan új tagokat gyűjtött maga köré.
A csapat tagjai a lemez idején: Dee Snider (ének), Eddie "Fingers" Ojeda (szóló- és ritmusgitár, háttérvokál), Jay Jay French (ritmus- és szólógitár, háttérvokál), Mark "The Animal" Mendoza (basszusgitár, háttérvokál), A. J. Pero (dob, ütőshangszerek).
Tracklist:
01. Stay Hungry
02. We're Not Gonna Take It
03. Burn in Hell
04. Horror-Teria: (The Beginning)
05. I Wanna Rock
06. The Price
07. Don't Let Me Down
08. The Beast
09. S.M.F.
Jellemző a csapatra, hogy dalaikban gyakori téma/motívum a szülő és gyerek közötti konfliktusok és az oktatási rendszerrel szemben megfogalmazott kritikák (na, azon pl. ma is bőven lenne mit kritizálni).
Bár a tagok öltözködését illetően van kapcsolat a csapat és a '80-as évek glam metál mozgalma között, mégis a zenekar agresszívebb zenei stílusa ötvözve sminkkel és női ruhákkal kellően groteszk ahhoz, hogy elkülönüljenek, kiváljanak a többi glam metál banda közül. (Ezt egyébként maga a csapat is tagadja, és sérelmezik, ha glam metál bandának titulálják őket.) Így inkább tekinthetők fura maskarákba bújt heavy metál zenészeknek.
Mint ahogy már fentebb is említettem, az albumon több olyan dal is van, amit már ismertem korábbról, a We're Not Gonna Take It pl. ilyen. :) Ahogyan az I Wanna Rock is (ez filmekben is feltűnt, most ami eszembe jutott, az a CoolTúra - mikor a srácok utaznak a vakok iskolájából elkötött iskolabuszon, akkor pl. ezt éneklik :D).
Szót érdemel még a The Price, ami a lemez többi dalától kissé idegen, mégis teljesen szerethető. :)
A Burn in Hell magas hangjairól az jutott eszembe, hogy ezt akár a Disturbed énekese, David Draiman is énekelhetné, mert ezek a magas, rezegtetve kitartott hangok totálisan egyeznek. :) Talán Dee-től leste el David? :)) (Ehhez kapcsolódóan mindenkinek figyelmébe ajánlom a refrént.)
Próbáltam tényleg csak a legjobbakra szorítkozni a számlistán való jelölgetésnél, de valahogy ez nem jött össze... :'D Nincs mit tenni, én imádtam ezt a lemezt, nagyon-nagyon tetszett, maximálisan ajánlom! :)
Legjobbnak pedig szándékosan egy talán kevésbé ismertebb dalukat választottam, számomra ez a legnagyobb kedvenc:
Twisted Sisters - Don't Let Me Down
Osztályzat: 10/10