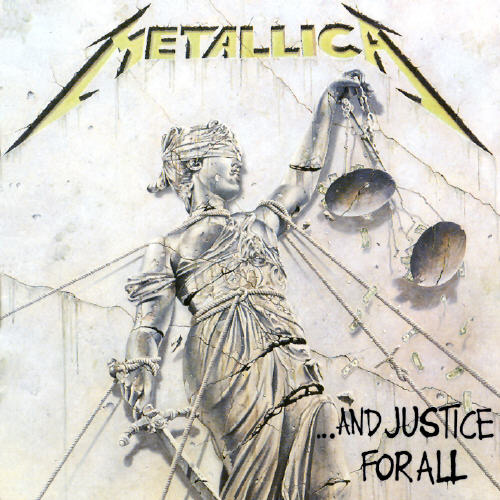 Először is, újságolni valóm van: pár napja elindult a blogom twitter és facebook oldala! :) Nem voltam benne biztos, hogy van rá szükség, de ezt majd úgyis ti fogjátok eldönteni. Mindenesetre ha szeretnétek, ezentúl ott is követhetitek, hogy épp milyen album-ajánló vagy közelgő album-megjelenésekről szóló infó került fel a blogra. :)
Twittereseknek katt IDE!
Aki pedig inkább Facebook-párti, IDE! 
Na de rákanyarodva eredeti témánkra: a Metallicától már rég ajánlottam (de még milyen rég! Még valamikor a blogom indulása idején, 4 éve), úgyhogy ideje csemegézni megint valamit tőlük. :)
Emellett persze még mindig időutazunk, ezúttal 1988-ba, amikor is a Metallica kiadta negyedik stúdiólemezét, az "...And Justice For All"-t.
Ez a csapat első albuma, amin Jason Newsted basszusgitáros játszott (előző basszerosuk, a csupán 24 éves Cliffe Burton 1986-ban hunyt el buszbalesetben). 
Szembetűnő a dalok hossza (összetettségük mellett): mindegyik több mint 5 perc, de jellemzően közel 7-9 percesek. Az album zeneileg elég progresszívre sikerült, a dalszövegek elég sötétek, gyakori téma a politikai és jogi igazságtalanság, háború, cenzúrázott beszéd.
A lemez borítóján Lady Justice szobra található (aki egyébként az igazságszolgáltatási rendszer erkölcsi erejének allegorikus megszemélyesítése). A borító teljesen idomul a dalok témájához is, és eléggé beszédes: az "erkölcs", az "igazság", amint omladozóban van, megkötözve, bekötött szemmel, dollárokkal teli mérleget tartva...
Amellett, hogy ez a lemez is szolgáltatott az utókornak néhány Metallica-klasszikust (például: One, Blackened), fontos mérföldkő is volt a zenekar életében: a "One" kislemezért kapták első Grammy-díjukat a "Best Metal Performance" (~"Legjobb Metál Előadás") kategóriában, 1990-ben.
Tracklist:
01. Blackened
02. ...And Justice For All
03. Eye of the Beholder
04. One
05. The Shortest Straw
06. Harvester of Sorrow
07. The Frayed Ends of Sanity
08. To Live Is to Die
09. Dyers Eve
Metallica-tagok a lemez készítésekor: James Hetfield (szólóének, ritmusgitár), Lars Ulrich (dobok), Kirk Hammett (szólógitár), Jason Newsted (basszusgitár).
Legelőször akkor találkoztam az albumról a "One" c. dallal, mikor páromnál Guitar Hero-ztunk, évekkel ezelőtt. :) Imádtam ezt a dalt játszani, pedig nehéz volt, csomót hibáztam mindig benne, de újra és újra ezt indítottam, mert megfogott. Leginkább az intro, de pl. 4:30 környékén is szeretem azokat a riffeket (és innen már tulajdonképpen egészen a végéig őrületesen pörgő és vérprofi az egész). Ez valószínűleg már annyira belém ivódott, hogy 100 közül is felismerném. :)
A Blackened-et is megkedveltem - sokat segített ebben az úgy 4 és 5 perc közötti rész. Szívesen meghallgatnék egy olyan Metallica-dalt is, ahol ezt a dallamvezetést viszik tovább, szerintem van benne fantázia, és kár hogy csak 1 perc hírnevet kapott, pedig annál több járt volna neki, sokkal... :( .
A To Live Is to Die pedig legfőképpen az introja és az outroja miatt lett kedvenc. Egyébként meg elég nagy katyvasz a dal, a hangulatok és stílusok szédületesen váltják egymást, de imádom, hogy a Metallica ennyire kísérletező kedvű és ilyen bátran keverik a "finomkodó" zenét a "vadulóssal". Az pedig egyenesen művészet, hogy  addig csűrik-csavarják, míg a végén mindig valami igazán jót hoznak ki belőle.
Ennek ellenére ez most sajnos nem annyira tetszett, mint anno a Black Album. :( Azok a dalok jobban megfogtak, és több igazán nagy kedvencet is avattam akkoriban az albumról. Így hát ez most szerény pontszám lesz, de attól még változatlanul zenei zseniknek tartom őket.
Az album legjobbja:
Metallica - One
Osztályzat: 10/6,5