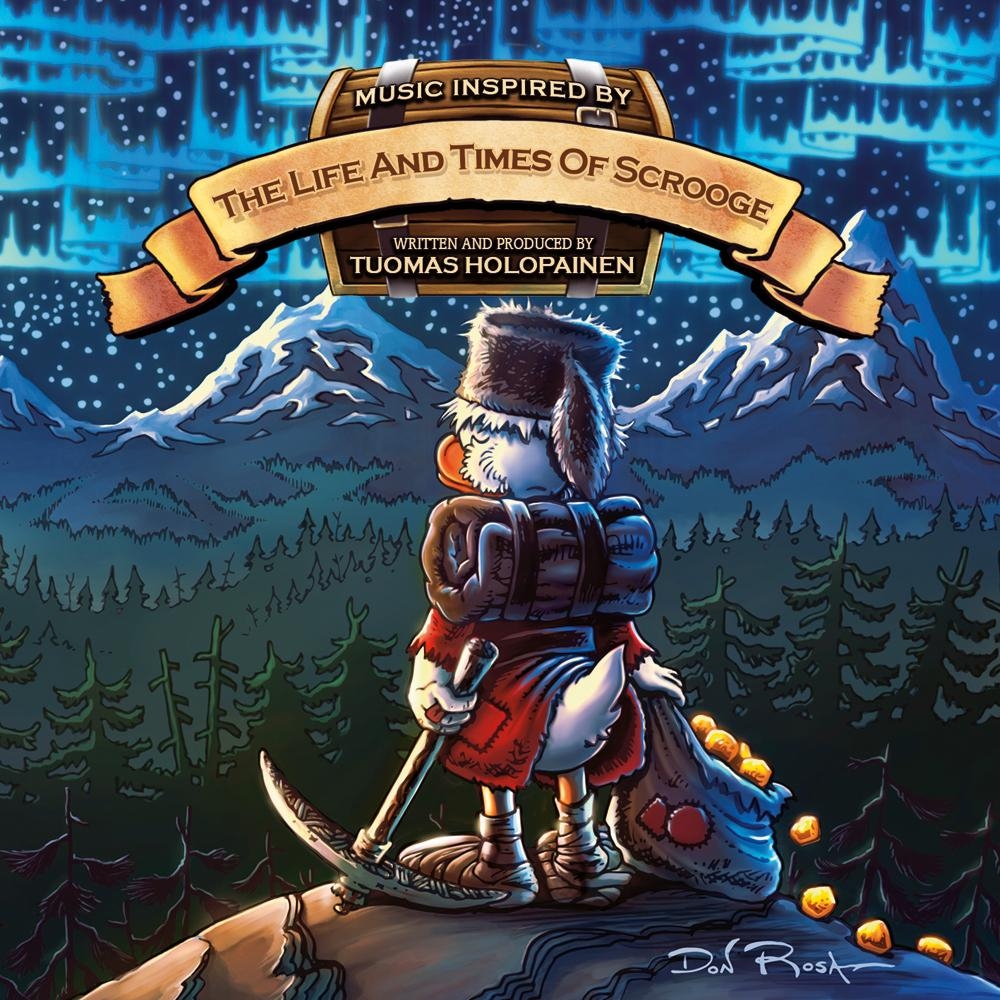 Tudom, most páran felnyögnek, hogy ez mit keres a blogomon. Mert bár a Nightwish billentyűséről és egyik fő zeneszerzőjéről, Tuomas Holopainenről van szó, de akkor is: filmzene-szerű dalok, és Dagobert bácsi élettörténete? Na neee!
Én meg azt mondom: de!
Ez a lemez az első szólómunkája Tuomas-nak, és bár nagyon ígéretes volt az "A Lifetime of Adventure", mégis tartottam tőle, hogy milyenek lesznek a többi szerzemények. Nem csalódtam! Alapból Tuomas sosem volt a szívem csücske, de amit ezen az albumon elkövetett, egész egyszerűen imádom! Nem tudom úgy hallgatni ezt a lemezt, hogy ne párásodjanak be a szemeim...
Mint ahogy az ismeretes a Nightwish-fanok előtt, Tuomas nagy Dagobert bácsi fan. Ennek köszönhető az album megszületése is: a lemez alapjául a "The Life and Times of Scrooge McDuck" c. képregény szolgált, amit Don Rosa írt és rajzolt (a lemezborító is az ő keze munkáját dicséri).
A dalokban nagy szerepe volt Johanna Kurkelának (finn énekesnő), a női vokálos részeket ugyanis ő énekelte fel. Narrátorként, valamint a 10.trackben énekelni Alan Reid-et hallhatjuk (skót folkzenész és dalszerző), és nem utolsó sorban közreműködött még a Sonata Arctica énekese, Tony Kakko is (az album 5.dalában).
Tracklist:
01. Glasgow 1877
02. Into the West
03. Duel & Cloudscapes
04. Dreamtime
05. Cold Heart of the Klondike
06. The Last Sled
07. Goodbye, Papa
08. To Be Rich
09. A Lifetime of Adventure
10. Go Slowly Now, Sands of Time
(Leszögezném: csak a leginkább megszeretett dalokra hagyatkoztam, ez nem jelenti azt, hogy a többi nem tetszett!)
Bár nagyjából egy sémára épülnek a dalok, hangulatilag mégis néha megdöbbentő eltérések vannak, még dalon belül is, mint pl. a "Duel &Cloudscapes", amiben a könnyed, "mendegélős" dallam - kb. 2 perctől arról a részről mindig ez jut eszembe - váltakozik a zordabb hangzással (a 3.perctől). 
Amit mindenképpen meghallgatásra ajánlok az albumról, az először is a fent már említett "A Lifetime of Adventure". Első szerelem volt a lemezről, és bárkinek mutattam, mindenkit elkápráztatott (függetlenül attól, hogy rock vagy pop párti). Aztán habarodtam bele a "The Last Sled"-be. Az előzőhöz nagyon hasonló, csak erőteljesebb és zeneileg is hangsúlyosabb. És bár a lemezen utolsó dalként szerepel, én mégis nem utolsó sorban ajánlom a "Go Slowly Now, Sands of Time" c. dalt. Imádom. Nincs más, amit hozzá tudnék fűzni.
Ez az anyag olyannyira az ujjai köré csavart, hogy tényleg nem találok rá szavakat sem (a kicsit össze-vissza, de végletekig rajongó posztomból talán ez kellőképpen ki is derült :D). Rock/metál vonás szinte nincs is benne, mégis varázslatos, bravúros, és el kell ismerni: Tuomas remek zeneszerző és zenész, nekem ezennel végérvényesen bizonyított.
Kedvenc dal:
Tuomas Holopainen ft. Alan Reid - Go Slowly Now, Sands of Time
(Elfogult osztályzat lesz, szólok előre. Engem lenyűgözött, viszont erősen gyanítom, lesznek, akikre közel sem gyakorolt ekkora hatást. Inkább most ne is figyeljetek rám, hallgassátok Tuomas albumát, és döntsétek el ti! :) A véleményekre mindenesetre nagyon kíváncsi vagyok, ne tartsátok magatokban! :) ).
Osztályzat: 10/10