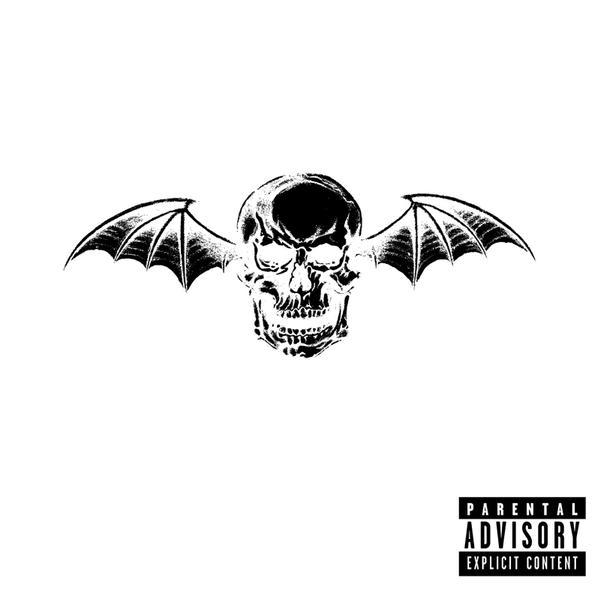 Amikor "retró darált keksz" helyett "retardált darált kekszet" olvasok (és még gondolkodok is, hogy az vajon milyen lehet! :D), az talán már egy jele annak, hogy ma már semmi értelmeset nem ildomos csinálni... :D
Én mégis arra vállalkozok, hogy írok egy újabb albumajánlót, remélhetőleg sikerül egy épkézláb bejegyzést összehoznom...
No hát ezúttal az A7X negyedik stúdiókorongjáról fogok írni, ami 2007 októberében jelent meg (bakeliten is kiadták). 
Ez az utolsó album, amit a csapat még "The Rev" dobossal készített el, aki 2009 decemberében hunyt el, 2 héttel a következő lemezük, a Nightmare felvételeinek kezdete előtt (az ő vokál-részei viszont már fel voltak véve, ezek bele is kerültek a dalokba).
Bár a kritikai fogadtatása elég vegyes volt, a Kerrang! 2008-as legjobb albumnak járó díját mégis elnyerte, és felkerült a Kerrang! "666 album, amit hallanod kell, mielőtt meghalsz" listájára is.
Érdekesség, hogy hetekkel az album megjelenése előtt a zenekar egy 10 videóból álló sorozatot indított útjára, úgynevezett "webisode"-okat. Ezekben bepillantást nyerhetünk a lemez felvételi munkálataiba.
Az Avenged Sevenfold tagjai a lemez készültekor: M. Shadows (szóló ének), Zacky Vengeance (ritmusgitár, háttérvokál, vokál az "A Little Piece of Heaven"-ben), Synyster Gates (szólógitár, háttérvokál, vokál a "Critical Acclaim"-ben), The Rev (dobok, háttérvokál, vokál a "Critical Acclaim", "Afterlife", "Lost" és "A Little Piece of Heaven" dalokban), Johnny Christ (basszus, háttérvokál).
Tracklist:
01. Critical Acclaim
02. Almost Easy
03. Scream
04. Afterlife
05. Gunslinger
06. Unbound (The Wild Ride)
07. Brompton Cocktail
08. Lost
09. A Little Piece of Heaven
10. Dear God
Bár az előző lemezük, amiről blogoltam, a 2010-es Nightmare 9*-os volt nálam, mégse mondhatnám, hogy különösebben megszerettem a zenéjüket. De a legjobb úton haladok efelé... :) Meg is mondom, miért...
Ezt a self-titled albumukat is meghallgattam párszor, és minden egyes újabb hallgatással lett egy újabb dal, amit megszerettem. :) Amit még korábbról ismertem, az az Almost Easy, ez az egyik szeretem-dal a korongról. Aztán megtetszett még az Unbound is, főleg a végén az a rész, amit egy gyerek énekel fel; maga a dallam és a szöveg is bejövős, nem gyengén:
"There's nothing here to take for granted
with each breath that we take
the hands of time strip youth from our bodies
And we fade
memories remain
as time goes on"
(Unbound)
Az Afterlife kicsit Apocalyptica beütésű kezdőakkordjai is nagyot szólnak, erre mondjuk nem voltam felkészülve, túl teátrális ez az A7X-hez képest, de érdekes módon jól jönnek ki belőle, és az Afterlife is egy jó kis dal. :) A Critical Acclaim is teljesen máshogy indul, mint ami végül is kisül belőle, egyébként viszont tökéletesen felvezeti az albumot, és mondhatni felkészíti a hallgatóságot, hogy igen, ez a fura elegy végig megmarad az album dalaiban. A Scream szintén egy jól sikerült felvételük, az ütemét nagyon bírom. A Brompton Cocktail elején hallható gitárról nekem a Leander Rising "8. főbűn" c. daluk ugrott be, amit szintén szeretek. Ez a track pedig stílusban megint más, mint a többi (komolyan imádom, hogy ennyire kísérletező kedvükben voltak a lemez készültekor :) ). Természetesen kerültek fel lassabb dalok is, ilyen a Gunslinger a country-s felütésével (simán van már egy éve, hogy elő sem vettem a gitáromat, de ettől a daltól önkéntelenül is gitározhatnékom támadt *-*) és a Dear God. 
"Dear God the only thing I ask of you is
to hold her when I'm not around,
when I'm much too far away"
(Dear God)
Hú, hát fel lett adva a lecke, elég rendesen... De meghánytam-vetettem a dolgot, és arra jutottam, hogy nekem itt és most ezt kell kiemelnem, mint legjobb dalt. Lehetne akár az öngyilkosok dala is ez, másrészt viszont rávilágít, hogy tényleg eléggé ilyen ez a világ... "in a world so cold / in a world so wrong"...
Egyébként viszont akármelyik korábban felsorolt dalt linkelhetném, de most ezt fogom:
Avenged Sevenfold - Brompton Cocktail
Végignézve a számlistán, nem is kérdéses, hogy tőlem most hány pontot fog kapni ez a lemez... :) Ha nem vigyázok, a végén még beírja magát a csapat a kedvenceim közé is...
Osztályzat: 10/10