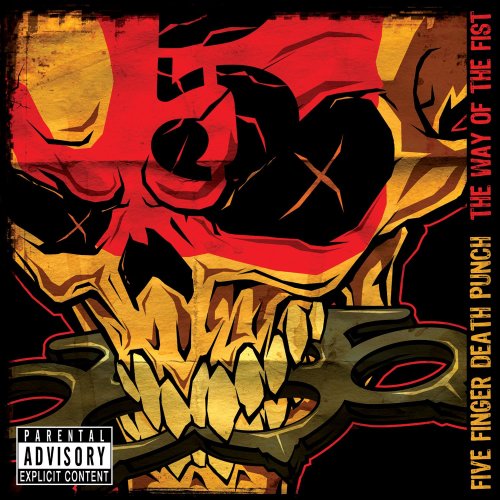 Másfél éve találkoztam először a FFDP zenéjével, és első hallásra beleszerettem ebbe, amit ez az 5 srác csinál. Azóta elkezdtem sorra venni az eddig megjelent összes lemezüket, és ez az utolsó olyan, amit még nem sikerült kiveséznem a blogomon. Na, majd most! :)
A The Way of the Fist 2007 júliusában jelent meg, a zenekar bemutatkozó albumaként (soha rosszabb bemutatkozást egyetlen zenekarnak sem!). 
2008 májusában újra kiadták a lemezt, 3 bónusz dallal megtoldva: Never Enough, Stranger Than Fiction, és a The Bleeding akusztikus változata.
Ezt a három dalt a csapat honlapjáról is le lehetett tölteni azoknak, akik rendelkeztek egy eredeti példánnyal a korábban kiadott korongból.
Az album sikerességét mutatja, hogy 2010-ben újabb kiadást élt meg, "Iron Fist Edition" alcímmel, ami az eredeti, 3 bonusszal kibővített cd mellett sok-sok extrát is tartalmazott: egy dokumentumfilm-dvd-t, zenei videókat, egy 11 dalból álló bonus cd-t (tele coverekkel, élő, demo és instrumentális FFDP-dalokkal), kártyajátékot, egy exkluzív posztert és naptárat.
A lemezen közreműködő tagok: Ivan L. Moody (szóló és harsh vokál), Zoltan Bathory (gitár), Darrell Roberts (gitár a "White Knuckles" c. trackben), Matt Snell (basszus, háttérvokál), Jeremy Spencer (dob). Vendégzenész: Uros Raskovski (gitár a "The Bleeding" c. trackben). 
Tracklist:
01. Ashes
02. The Way of the Fist
03. Salvation
04. The Bleeding
05. A Place to Die
06. The Devil's Own
07. White Knuckles
08. Can't Heal You
09. Death Before Dishonor
10. Meet the Monster
11. Never Enough [Iron Fist Edition CD1 Bonus Track]
12. Stranger than Fiction [Iron Fist Edition CD1 Bonus Track]
13. The Bleeding (acoustic) [Iron Fist Edition CD1 Bonus Track]
Egyszerűen nem tudok belekötni ebbe a cd-be. Nem mintha annyira akarnék, mert már bizonyítottak a későbbi lemezeiken is (vagy blogolási szempontból korábbiakon), hogy ők bizony megérdemlik a figyelmet, és nagyon értenek ahhoz, amit csinálnak. 
Ez a lemezük meg végképp támadhatatlan. Egyrészt ugye a gitártémák és -szólók hibátlanul megkomponáltak, abszolút kedvenc ebből a szempontból az "A Place to Die", a "White Knuckles", a "Death Before Dishonor" (az elején lévő szóló a régi klasszikus metálbandákat idézi - szuper kezdés!) és a "The Bleeding" elején úgy 0:25-től 0:35-ig. Ez a gitár-rész az akusztikus verzióban még erőteljesebb, totál libabőr, és igazából az akusztik-dal úgy teljes egészében is! *-* A scream-részeket nagyon jól hozza Moody, ahogyan az ének is teljesen rendben van (ezt a kettősséget mindig is imádtam a FFDP-nál, és emiatt egyenesen zseninek tartom Moody-t, hogy ilyen színvonalon tud mindkét fronton helyt állni - mi tagadás, ő az egyik legnagyobb kedvencem a frontemberek terén). Kedvenc ének-részem a "Can't Heal You" verse és bridge része és a "The Bleeding" egésze. A refrének kellően húznak, nem kell sokszor meghallgatni, hogy a dallama teljesen rögzüljön. Aminek a refrénje leginkább megfogott az a "The Devil's Own", nem is tudom, hány napig csak ezt az egy refrént dúdolgattam, énekeltem magamban kb. mindenhol... :D
Amit pedig kedvencként kiemelek, az az a dal, amit 3 verzióban is elkészítettek: eredeti, akusztikus és screamless (utóbbi sajnos nem került fel erre a cd-re) - nem ok nélkül, mert én is úgy gondolom, hogy ez az album legjobbja, és vitathatatlanul a FFDP egyik legjobb dala: 
Five Finger Death Punch - The Bleeding
Lenyűgöző debütlemez egy (enyhén szólva) nem hétköznapi csapattól. Csak azt sajnálom, hogy a későbbi lemezeik nem fogtak meg ennyire... :( Toronymagasan eddig ez a kedvencem tőlük.
Osztályzat: 10/10