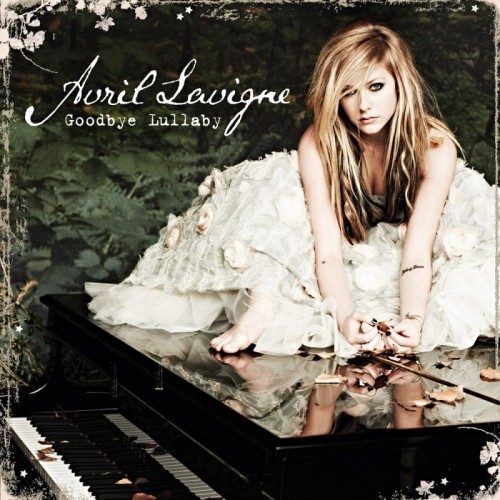 Avrilt már rég nem hallgattam, úgyhogy most egy kósza ötlet nyomán év végi lazítás gyanánt előszedtem tőle is egy albumot, mégpedig a 2011 márciusában megjelent "Goodbye Lullaby" címűt.
Avril anno, tinikoromban nagy kedvenc volt, már-már példakép (mint sok más tinilánynak), aztán valahogy "kiszerettem" belőle. Ennek valószínűleg az az oka, hogy kezdett egyre populárisabb zenét játszani, időközben én is felnőttem, és a zenei ízlésem egyre inkább kezdett különbözni attól a zenei iránytól, amiben Avril kezdett tevékenykedni.
Ez az album is már ennek a stílusnak a jegyében íródott, bár tény, hogy másabb, mint a "váltás" után készült "The Best Damn Thing" album, viszont így elöljáróban annyit elárulhatok már most, hogy nem sikerült túlzottan megfognia, szinte egyetlen dalnak sem a lemezről (bővebben majd lent)...
A lemezen közreműködők névsorát felsorolni sok lenne, viszont megemlítendő, hogy sokat hozzátett producerként a lemezhez Deryck Whibley, aki ekkor már csak Avril exférje volt (2004-től 2010-ig alkottak egy párt, és 4 év házasság után ért véget a kapcsolatuk, de továbbra is barátok maradtak).
Tracklist:
01. Black Star
02. What the Hell
03. Push
04. Wish You Were Here
05. Smile
06. Stop Standing There
07. I Love You
08. Everybody Hurts
09. Not Enough
10. 4 Real
11. Darlin
12. Remember When
13. Goodbye
14. Alice (hidden track)
Avril úgy nyilatkozott, hogy a lemez készültekor az volt az irányadó szempont, hogy a hangja és az ének kerüljön előtérbe a dalokban. Emellett a zongora és az akusztikus gitár nagyobb hangsúlyt kapott, mint az előzőleg kiadott lemezén. Úgy tudnám megfogalmazni, hogy most egy "elegánsabb", kifinomultabb albumot sikerült kiadnia, a korábbi vadulós-lázadós albumok helyett. Igazán bulizós pop/hip-hop határait súroló zene ezúttal csak kettő került a lemezre: a What the Hell és a Smile. A többinél tényleg az akusztikus vonal dominál, ami egyébként nagyon jót tesz az egész anyagnak. Ettől a hallgatóság egy nagyon kellemes, hangulatos, lazulós lemezt kap - erre meg olykor szükségünk is van. :)
Azért - valljuk be - a reklámok némelyike elég rendesen be tudja fészkelni magát az ember emlékezetébe, akaratlanul is: én még emlékszem Avril első parfümjének tévéreklámjára, aminek zenéje a "Black Star" volt (ami egyébként a parfüm neve is). Ez a dal erre a lemezre is felkerült - és valahogy azóta is ez a reklám ugrik be róla. :)
Az I Love You giccses is lehetne, ehelyett inkább egy aranyos dal, a szeretett lényhez, akit nem csak a kinézetéért, viselkedéséért stb. szeretünk, hanem úgy komletten, azért, amiért ő maga. :)
A 4 Real-t Avril egyedül írta és ő is készítette el a teljes dalt - na, ez a dal pl. nagyon tetszik, nem is értem, miért nem csak egyedül készíti a dalokat, lehet, hogy sokkal többet érne vele... 
Kiemelendő még a Darlin is. :) Igazi Avriles dal, amit egyébként az énekesnő még 15 éves korában megírt, és a dal azóta várt arra, hogy lemezre vigyék.
Az Alice-ről még külön említést kell tennem: ez a dal az "Alice Csodaországban" c. (egyébként egész jó) film betétdala volt.
A Wish You Were Here-ről pedig nem is tudom, mit írhatnék. :) Még valamelyik zenecsatornán hallottam először, és azonnal felkeltette az érdeklődésemet. Szeretem ezt a dalt, jómagam is feldolgoztam, sokszor játszottam már, kellemes gitározható-énekelhető dal. Ám így meghallgatva a dalokat, esélyes az "album legjobbja" titulusra a Darlin is, viszont ami leginkább megfogott, az ez:
Avril Lavigne - 4 Real
Ez közel sem egy rossz album, viszont annyira középszerű, hogy ennél magasabb pontszámot nem tudok rá adni. Arra tökéletes, hogy mélázgatáshoz, láblógatáshoz feltegyük ezt a lemezt, és végigdúdolgassuk, de sajnos semmi egyebet nem ad: nincsenek rajta eget rengető slágerek, vagy olyan dalok, amik annyira megragadják az embert, hogy muszáj egymás után százszor lejátszani, mert annyira jó. 
Jó, jó, de nem az igazi...
Osztályzat: 10/7