Végre sikerült ráncba szednem a 2014-es zenei "élményeimet", így - a hagyományt követve - ideje egy blogbejegyzést kerekítenem belőle. :)
Első körben szeretném megköszönni mindenkinek, aki 2014-ben is velem tartott, remélem, számíthatok rátok idén is. :) Köszönöm a kommenteket, és hogy facebook-on is követitek a blog eseményeit. Bízom benne, hogy a továbbiakban is sikerül majd jobbnál jobb zenéket ajánlanom nektek. :)
2014-ben 58 lemez került fel a blogra - próbáltam 60-ra kerekíteni ezt a számot, de arra a kettőre már nem jutott idő... :/ Viszont így sem unatkoztunk, úgy érzem, egész jó albumokat sikerült összeválogatnom, már ha csak arra gondolunk, hogy ebből az 58-ból 11 lemez kapott 10*-os osztályozást. :)
Ééés egy kis blog-statisztika: az indulás óta 51680 oldalmegtekintés történt a blogon.
Most pedig nincs is más hátra, mint előre: foglaljuk is össze a 2014-es évet - blog szempontból.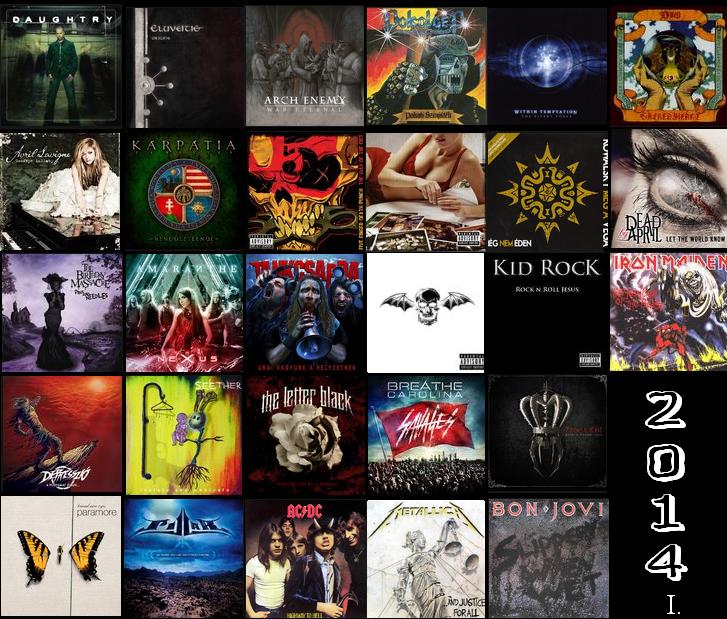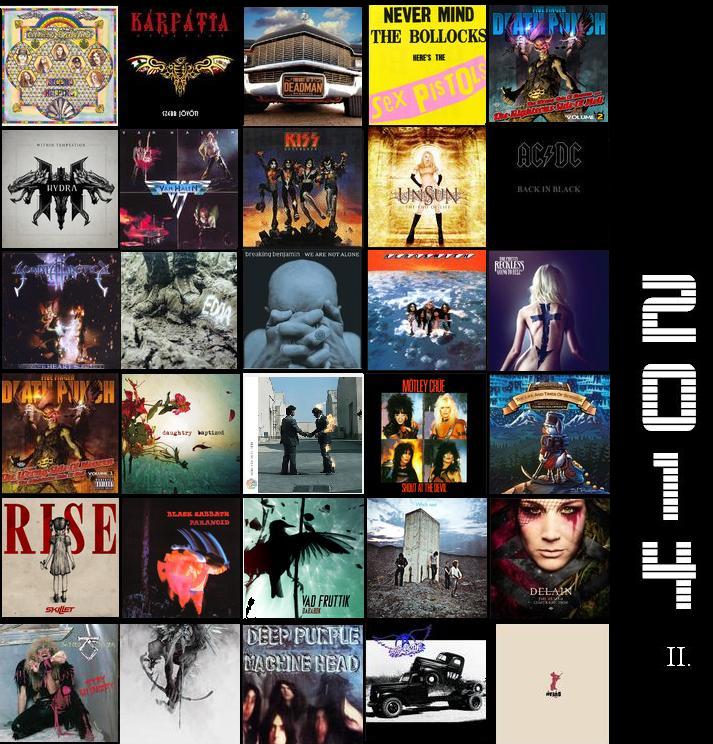 01. The Pretty Reckless - House on a Hill [10*]
02. Avenged Sevenfold - Brompton Cocktail [10*]
03. Five Finger Death Punch - The Bleeding [10*]
04. Lynyrd Skynyrd - Sweet Home Alabama [10*]
05. Aerosmith - The Other Side [10*]
06. Twisted Sister - Don't Let Me Down [10*]
07. Aerosmith - Dream On [10*]
08. Tankcsapda - Köpök rátok [10*]
09. Linkin Park - Guilty All The Same (ft. Rakim) [10*]
10. Tuomas Holopainen - Go Slowly Now, Sands of Time [10*]
11. Within Temptation - Forsaken [10*]
12. The Letter Black - My Disease [9*]
13. Seether - My Disaster [9*]
14. Eluveitie - Celtos [9*]
15. UnSun - Lost Innocence [9*]
16. Mötley Crüe - Too Young to Fall in Love [9*]
17. Kowalsky meg a Vega - Szép nap ez arra [9*]
18. Skillet - Fire and Fury [9*]
19. AC/DC - You Shook Me All Night Long [9*]
20. Edda Művek - Kölyköd voltam [9*]
21. AC/DC - Touch Too Much [8,5*]
22. Van Halen - Ain't Talkin' 'Bout Love [8,5*]
23. Kid Rock - All Summer Long [8,5*]
24. Delain - Tell Me, Mechanist [8,5*]
25. Kárpátia - Szép helyek [8,5*]
26. Depresszió - A legjobb ellenfél [8,5*]
27. Dio - Sacred Heart [8*]
28. Pink Floyd - Wish You Were Here [8*]
29. Five Finger Death Punch - Lift Me Up [8*]
30. Bon Jovi - Livin' On a Prayer [8*]
31. Arch Enemy - You Will Know My Name [8*]
32. Within Temptation - And We Run (ft. Xzibit) [8*]
33. Amaranthe - Mechanical Illusion [8*]
34. Vad Fruttik - Szemben a nappal [8*]
35. Kárpátia - Magyar ének [8*]
36. Paramore - Ignorance [8*]
37. Deep Purple - Highway Star [8*]
38. Five Finger Death Punch - Cradle to the Grave [7,5*]
39. The Birthday Massacre - Control [7,5*]
40. Daughtry - Traitor [7,5*]
41. Dead by April - As a Butterfly [7,5*]
42. Daughtry - It's Not Over [7,5*]
43. The Who - Behind Blue Eyes [7,5*]
44. KISS - Detroit Rock City [7,5*]
45. Iron Maiden - Children of the Damned [7*]
46. Theory of a Deadman - Santa Monica [7*]
47. Avril Lavigne - 4 Real [7*]
48. Black Sabbath - Paranoid [7*]
49. Lacuna Coil - Nothing Stands in Our Way [7*]
50. Sonata Arctica - Gravenimage [7*]
51. Pillar - Frontline [6,5*]
52. Metallica - One [6,5*]
53. Hinder - Better Than Me [6*]
54. Breathe Carolina - Sellouts (ft. Danny Worsnop) [5,5*]
55. Óriás - Fát dönteni [5,5*]
56. Breaking Benjamin - So Cold [5,5*]
57. Sex Pistols - Holidays in the Sun [5,5*]
58. Pokolgép - Ítélet helyett [5*]
Kedvenc előadóm 2014-ben: Na most lőjön le valaki... :D Legtöbbször gondban vagyok az album legjobb dalának kiválasztásával is, de mikor a sok jobbnál jobb előadó közül kell egyet kiválasztanom, akiket közel ugyanolyan mértékben megszerettem... Hát, ez most nem olyan egyértelmű - szépen szólva... :D 
Alaposan átgondolva: akiket legtöbbet hallgattam és a hozzám egyik legközelebb álló csapat volt 2014-ben, az a Five Finger Death Punch. :)
Az év legnagyobb pozitív csalódása: Aerosmith :) Fene se gondolta, hogy ennyire megszeretem a zenéjüket: az időutazós rovatom kedvéért guberáltam elő 2 lemezt tőlük, és mindkettő max.pontos lett nálam. :) A közeljövőben mindenképpen szeretnék még több lemezt meghallgatni tőlük - igen, vehetjük újévi fogadalomnak is... :))
Akiknek az idén hallgatott lemezétől többet vártam: Több ilyen is volt, de amiben leginkább csalódtam az az Óriás "Jön" c. 2008-as albuma. A "Fát dönteni"-t már régóta szeretem, ezt az egy dalt ismertem tőlük, de sajnos több kedvencem ezúttal sem lett, pedig reménykedtem, hogy hátha sikerül legalább annyira megszeretnem őket, mint az alternatív rock műfajában nálam etalonnak számító Vad Fruttikat. Sajnos nem így történt... :(
És meg kell említenem még egy külföldi albumot is, a Breathe Carolináét. A Danny Worsnop-pal készült közös daluk után nagyon bizakodó voltam, és boldogan ugrottam fejest a lemez dalainak hallgatásába, aztán ért a csalódás, hogy hát a többi daluk bizony közel sem olyan jó, mint ez... Kár értük, szerettem volna szeretni a zenéjüket... :(
Akiknek idén a legtöbb albumát hallgattam: Nem akadt olyan előadó, akitől kiemelkedően sok lemezt hallgattam volna. Egyedül a Five Finger Death Punch volt, akiktől több cd is terítékre került nálam, szám szerint 3.
Akiknek a zenéjével idén ismerkedtem meg (idén blogoltam róluk először): Zömét a Time Travel rovatomnak köszönhetem - amit szeretnék 2015-ben is folytatni, még több régi klasszikus rock/metál zenekart megismerve ezzel. The Birthday Massacre, The Letter Black, Kid Rock, Pillar, Hinder, Breathe Carolina, Arch Enemy, Delain, Aerosmith, Pokolgép, Bon Jovi, Dio, Twisted Sister, Mötley Crüe, Iron Maiden, Edda Művek, AC/DC, Óriás, Theory of a Deadman, UnSun, Van Halen, Sex Pistols,  KISS, Pink Floyd, Lynyrd Skynyrd, Deep Purple, The Who, Black Sabbath
A legkülönlegesebb album: Ebben a kategóriában egyértelműen a Nightwish-billentyűs Tuomas Holopainen szólóalbumát tudom győztesként kihozni. Az édeskés-búskomorságával, léleksimogató szólamaival teljesen kimagaslik a többi lemez közül, nagyon jól esett hallgatni, engem maximálisan levett a lábamról, és biztosan visszatérő vendég lesz még nálam jó darabig ez az album, és reménykedem, hogy Tuomas nem áll meg egyetlen szólóalbumnál, hanem még sok-sok hasonló csodát fogunk tőle hallani...
Az év leginkább várt albuma: Ide is beillene az előbb említetett Tuomas Holopainen-album, de inkább választok egy másikat (hogy ne már mindenhova csak ugyanazokat írjam... :D). Igazából több ilyen album is volt, de leginkább talán a Kowalsky meg a Vega "Még nem Éden" c. albumát tudnám kiemelni. Nagyon-nagyon megszerettem őket, így már tűkön ülve vártam hónapokig, hogy mikor jön ki végre a lemez. Nagyon szimpatikus az is, hogy a MOL-együttműködésük révén 990ft-os áron hozzájutottam a lemezhez, ami a jelenlegi zenei piaci helyzetben eléggé csoda-számba megy... Karácsonyra pedig párom meglepett a zenekarról szóló, infókkal, interjúkkal, fotókkal, dalszövegekkel és Kowa-novellákkal teli "Csak egy ág...". című könyvvel is, amit épp most olvasok, úgyhogy én még mindig Kowalsky lázban égek. :) És persze, már most nagyon várom a következő lemezüket... :D
Az év felfedezettje: Nálam maximálisan a The Letter Black. :) Kellemes, pop-rockos, női frontemberes csapat, akik egyébként roppant tehetségesek is. Igaz, még csak 1 lemezt hallottam tőlük, de azon leszek, hogy a jövőben ez majd változzon. :) És reménykedem, hogy nem fog negatív csalódás érni...
Idén hallgatott magyar (előadójú) albumok száma: 9
2014-es megjelenésű hallgatott albumok száma: 13
Összes véleményezett album a blogon: 268
Elkészült a lejátszási lista is, ami tartalmazza az összes, 2014-ben "legjobb dalként" kiemelt track-et. :)
Jó zenehallgatást kívánok hozzá! ^^