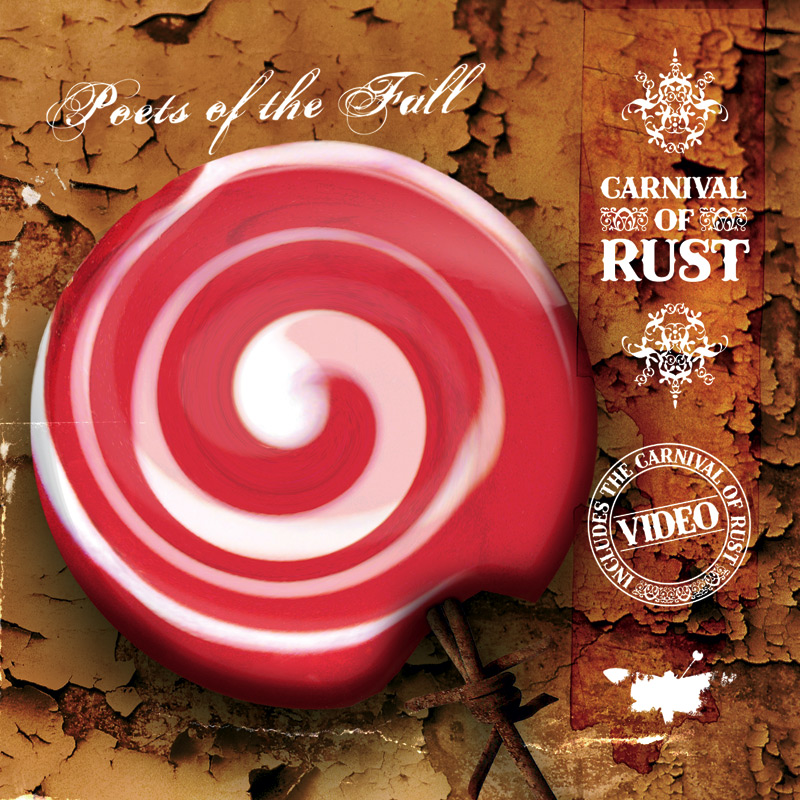 Kanyarodjunk kicsit vissza a "hagyományos" rock-frontra, mégpedig a Poets of the Fall elnevezésű finn rockcsapat 2. nagylemezével.
A zenekar 2003-ban Helsinkiből indult hódító útjára (ez jól is sikerült, hazájukban a népszerűségük megkérdőjelez-hetetlen: mindegyik albumukkal - a 2012-es "Temple of Thought" kivételével - megszerezték az első helyet a finn toplistákon).
Az énekes Marko Saaresto és a gitáros Olli Tukiainen alapította a csapatot. Marko egyik barátja, aki forgatókönyv-íróként dolgozott a Remedy Entertainment-nél, odaadta Markonak egy saját versét, hogy készítsen belőle egy dalt, amit használni tudnak majd a Remedy egyik videojátékához, a "Max Payne 2. - The Fall of May Payne"-hez (valószínűleg a nevük is innen ered). A dal elkészült "Late Goodbye" címmel - Markus Kaarlonen producer, aki szintén a dalon dolgozott, ezután hivatalosan is csatlakozott Marko és Olli kettőséhez, és így megalakult a Poets of the Fall.
Hogy megőrizhessék szabadságukat és a teljes kontrollt a folyamatok fölött, a csapat megalapította saját lemezkiadóját, az Insomniac-ot, és a 2014-ig megjelent összes lemezüket kiadták ismét.
A Carnival of Rust 2006. április 12.-én látott napvilágot, és zajos sikert aratott Finnország-szerte; három héttel a megjelenés után aranylemez lett és 2006 egyik legjobb albumának bélyegezték hazájában.
A lemezen közreműködő tagok: Marko Saaresto (ének), Olli Tukiainen (gitár), Markus Kaarlonen (billentyűk)
Tracklist:
01. Fire
02. Sorry Go 'Round
03. Carnival of Rust
04. Locking Up the Sun
05. Gravity
06. King of Fools
07. Roses
08. Desire
09. All the Way / 4U
10. Delicious
11. Maybe Tomorrow Is a Better Day
12. Dawn
Nem rossz, nem rossz...
Arra már nem emlékszem pontosan, hogy mikor és hogyan találtam rá a POTF zenéjére. Csak arra emlékszem, hogy a Carnival of Rust (a címadó dal) volt tőlük az első, amit hallottam, és halálosan beleszerelmesedtem - mai napig képtelen vagyok megunni, és hiába hallgattam végig az egész albumot azóta már számtalanszor, ez maradt a kedvenc.
Pedig igazán jó dalokból akad még pár a lemezen, ezek között valószínűleg mindenki megtalálja a számára leginkább tetszőt, annyira különbözőek a dalok: nagyon szeretem a Locking Up the Sun-t is, főleg a refrénjét és a zenei alapot; sodró, lendületes - mindenképpen a lemez egyik legjobbja.
A Gravity is tetszetős, ez egy tipikus, dallamos, erős gitár-ritmusos rocknóta.
A Maybe Tomorrow... -ról már a zenei alapot hallgatva is süt az alternativ-jelleg, de a refrénjét különösen szeretem (pedig eléggé egyszerű, de valljuk be, jól szól a gitár...).
A lemezen akadnak lassúbb dalok is. Ezek közül kettőt tudnék igazán kiemelni (ha a Carnival of Rust-ot is ide vesszük, akkor hármat, de most ettől tekintsünk el). Az első a Dawn, egy dal a továbblépésről, amit nagyon megszerettem, a másik pedig bár zenei alapot tekintve nem egy lassú dal, mégis sokkal "nyugisabb" mint az albumon szereplő dalok zöme - ez a Roses. 

Aki nem vágyik kifejezetten nagy élményekre, egyszerűen csak jó zenét szeretne hallgatni és múlatni az időt vele, annak tökéletes választás ez a lemez. 
Nálam egyetlen dal esetén volt katarzis (ez viszont önmagában véve még kevés a magasabb értékeléshez, és ahhoz, hogy jobban szeressem ezt a lemezt), a fentebb már említett Carnival of Rust-ot imádom: egyébként ez alapján egy teljesen más lemezre számítottam, kevésbé populárisabbra és sokkal mélyebbre (mondjuk olysamira, mint amilyen a Dream Theater). Így önmagában ez a dal nem ad konkrét képet az album dalairól; ajánlom még meghallgatni a Locking Up the Sun-t vagy a Gravity-t, hogy világosabbá váljon, milyen zenét is játszik voltaképpen a Poets of the Fall.
Számomra a legjobb dal a lemezen:
Poets of the Fall - Carnival of Rust
Osztályzat: 10/7,5