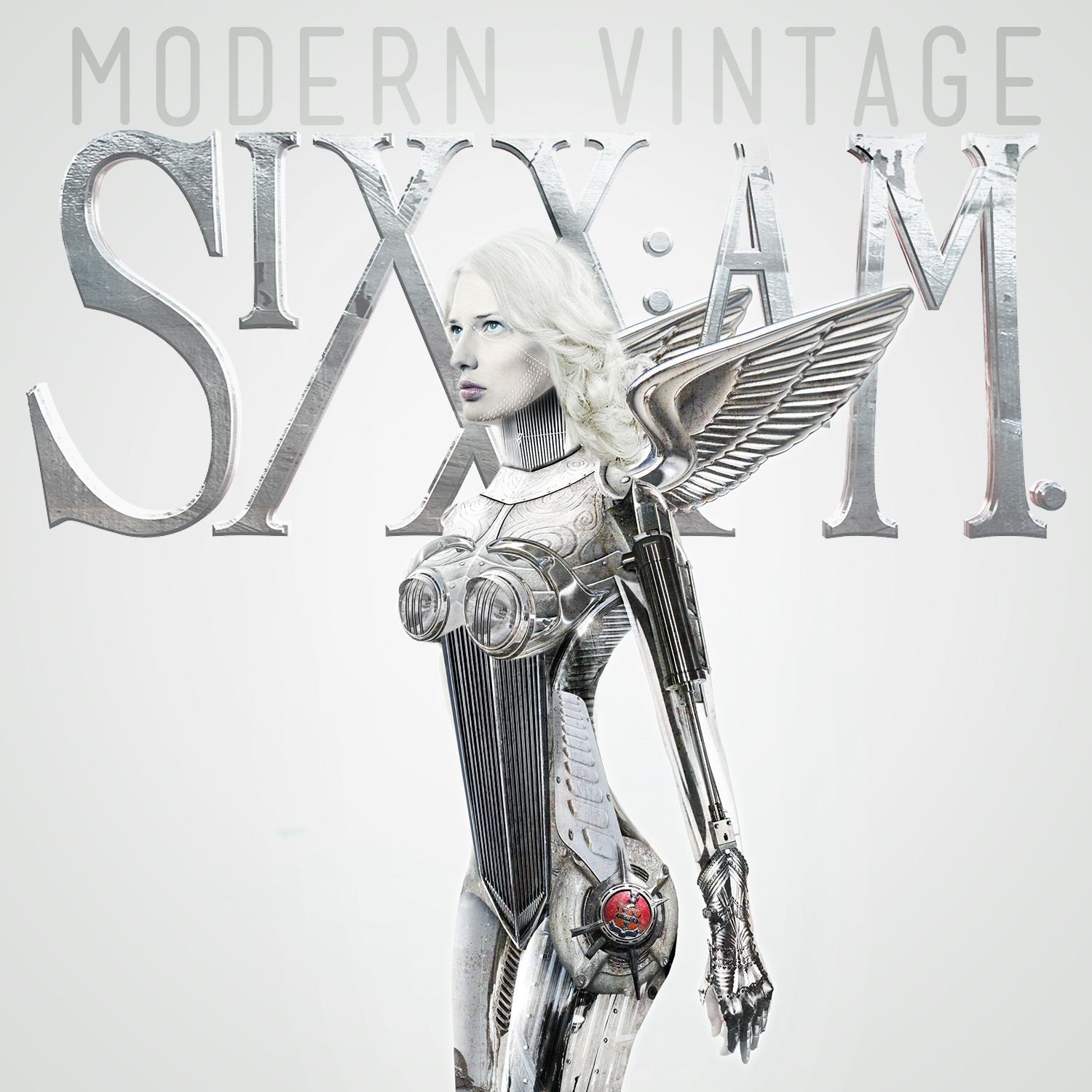 Jó ideje pörög már nálam ez a lemez, és végre el is jutottam odáig, hogy írjak róla. :) Eddig a Sixx:A.M. is kimaradt a blogomról - én mindenesetre már így elöljáróban amondó vagyok, hogy aki szereti a dallamosabb, mégis kicsit pörgős-zúzós rockzenét, ők mindenképpen tegyenek egy próbát a csapat zenéjével! :)
A Sixx:A.M. elnevezésű zenekar 2007-ben alakult Los Angelesben. Nikki Sixx, DJ Ashba és James Michael alapította (a zenekarban betöltött szerepüket felsorolni is sok lenne, inkább szokásosan a blokk végére hagyom). A Sixx:A.M. név a tagok vezetékneveiből adódott: Sixx, Ashba, Michael. 
[Átvitt értelemben "reggel 6 (óra)"-ként is értelmezhető.]
Érdekesség, hogy a formáció igazából Nikki Sixx mellékprojektjeként indult: ő a Mötley Crüe alapító- és máig is oszlopos tagja, basszusgitárosként. Ahhoz képest elég jól fut ez a szekér is, a Sixx:A.M. már 3 stúdiólemezt tudhat maga mögött - a "Modern Vintage" 2014 októberében került piacra, ez a legutóbbi lemeze a csapatnak.
A zenekar tagjai: Nikki Sixx (basszusgitár, háttérvokál, billentyűk, gitár), DJ Ashba (szólógitár, háttérvokál), James Michael (szólóvokál, ritmusgitár, billentyűk, dobok, programozás)
Tracklist:
01. Stars
02. Gotta Get It Right
03. Relief
04. Get Ya Some
05. Let's Go
06. Drive (The Cars cover)
07. Give Me a Love
08. Hyperventilate
09. High on the Music
10. Miracle
11. Before It's Over
Alapból tetszik ez, amit a Sixx:A.M. csinál. Viszont a legfőbb problémám velük, hogy legalábbis számomra eléggé felejthető zenét játszanak. Arra megfelel, hogy az ember autóban vezetés közben, utazás alatt, netezéshez bekapcsolja, eldúdolássza magában a dalokat, de világsláger egyik sem lett/lesz.
Ezen a lemezen is sok a jó dal, de igazán jellegzetes/kivételes szerzemény sajnos csak kevés. Az egyik, amit szeretek, az a "Gotta Get it Right", bár ennek is leginkább csak az akusztikus változatát (ami a Deluxe verzión jelent meg, 14.track-ként). A Get Ya Some volt a legelső, ami megtetszett a lemez számai közül, és talán ez az egyik legsajátosabb dal is rajta.
A The Cars zenekartól kölcsönvett dalból, a Drive-ból készült feldolgozásukra azonnal felkaptam a fejem, hogy "jééé, én ezt ismerem", csak azt nem tudtam megmondani, hogy kié volt az eredeti. :D Szerintem ez is nagyon jól sikerült, nekem konkrétan jobban is tetszik ez az áthangszerelt, továbbgondolt verzió, mint az eredeti.
A Hyperventilate egy tipikus rockdal, szintén eléggé bejövős, kötelezően meghallgatandó ez is! :) 
De hogy ne szaporítsam tovább a szót, linkelném is a lemez legjobbját (számomra mindenképpen az! határozottan!)
Sixx:A.M. - Get Ya Some
Nem rossz, nem rossz, de még azért ez így picit kevés. Remélem, a következő lemeze(ke)n már valami igazán egyedit fognak szervírozni (pl. ilyen Get Ya Some-hoz hasonló jóságokat), mert a potenciál bizony ott van bennük: remek zenészek, én hiszem, hogy tudnának ők ennél sokkal jobbat is...
Osztályzat: 10/8