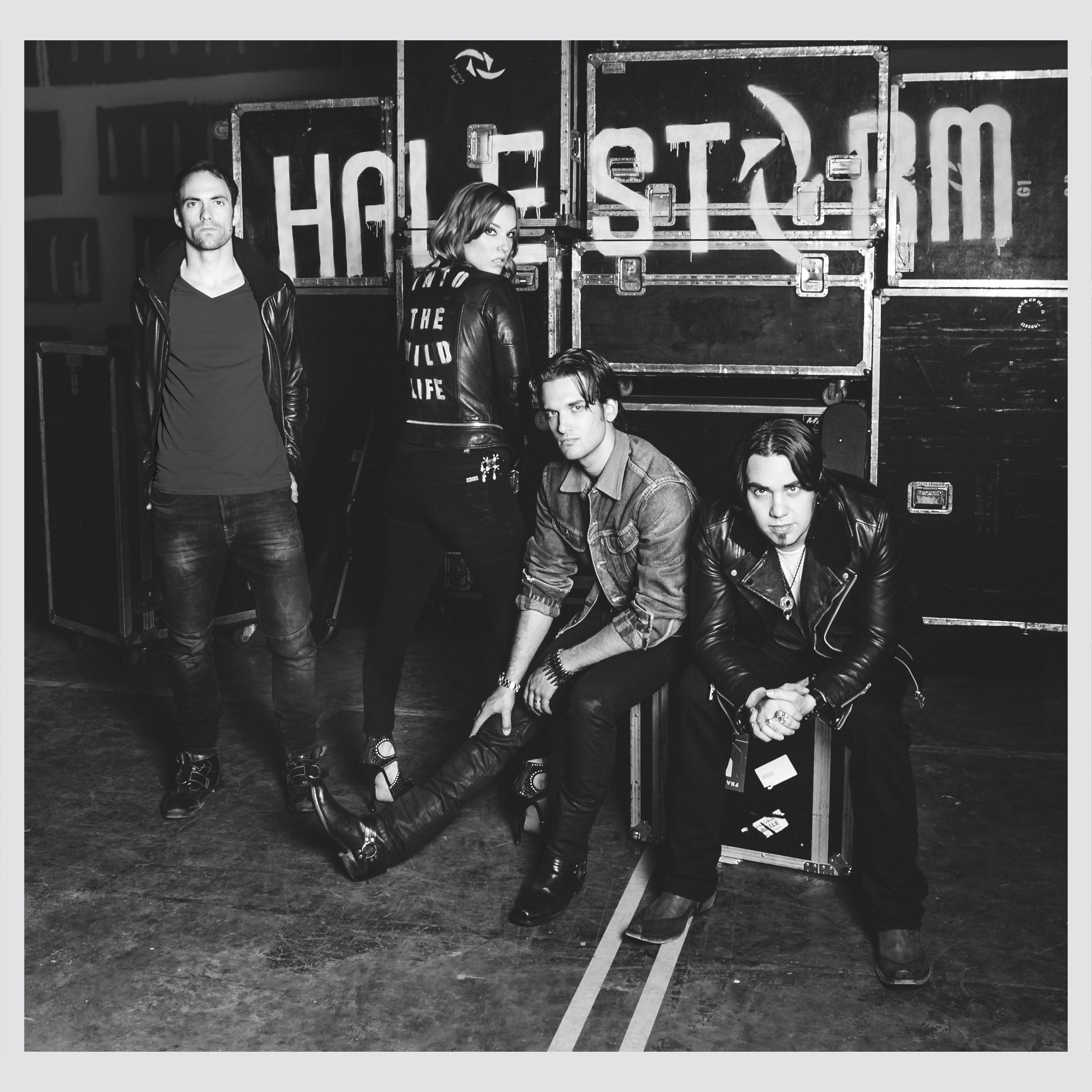 A családi vállalkozás visszatért, és tökösebb, mint valaha: élükön énekesnőjükkel Lzzy Hale-lel, aki most megduplázva ad bele apait-anyait.
A zenekar legutóbbi, sorban a második nagylemeze 2012-ben jelent meg, így idén már időszerű volt egy újabb korong, amit áprilisban meg is kaptunk.
Panaszra okunk nincs, tipikus Halestorm lemezt kaptunk, érezhető a belé fektetett munka, és mégsem vált izzadságszagúvá. Így kell ezt csinálni!
Lzzy az új lemez munkálatairól így nyilatkozott:
"Négyen álltunk körben a stúdióban, pontosan úgy játszottunk, mintha a színpadon lennénk. Mindent újra és újra el kellett nyomnunk, amíg pontosan ugyanarra a hullámhosszra kerültünk. Anélkül szerettünk volna élő hangzású albumot felvenni, hogy koncertlemezt adunk ki. Azt akartuk, hogy a kész anyagon hallatsszon az a kémia és energia, ami megvan közöttünk a bulikon" - olvasható a phenomenon.hu-n.
A zenekar tagjai: Lzzy Hale (szólóének, ritmus- és szólógitár, billentyűsök), Arejay Hale (dobok, ütőshangszerek, háttérvokál), Joe Hottinger (szólógitár, háttérvokál), Josh Smith (basszusgitár, háttérvokál)
Tracklist:
01. Scream
02. I Am The Fire
03. Sick Individual
04. Amen
05. Dear Daughter
06. New Modern Love
07. Mayhem
08. Bad Girl's World
09. Gonna Get Mine
10. The Reckoning
11. Apocalyptic
12. What Sober Couldn't Say
13. I Like It Heavy
14. Jump The Gun (Deluxe Edition Bonus Track)
15. Unapologetic (Deluxe Edition Bonus Track)
A kezdés nagyon hatásos, nagyon erős, a Scream-et egyből megszerettem. :) Leginkább a zenei alap az, amit hihetetlenül izgalmasnak tartok, ehhez aztán jócskán hozzátesz még Lzzy fantasztikus hangja és énektechnikája (a bridge alatt végig libabőr...). 
Következő nagy kedvenc a Sick Individual. Nekem a "Smooth Criminal" ugrott be a verséjéről. Szeretem. :)
Aztán el is érkeztünk (elég hamar...) a lemez csúcspontjához. Az Amen számomra egyszerűen tökéletes, az egyik legfülbemászóbb dal az egész lemezen, színtiszta rock, totálisan szerethető (a lemez előfutáraként jelent meg, azóta hallgatom, képtelen vagyok betelni vele *-*).
A New Modern Love egy megszelídített rocknóta, kicsit indie/funk színezettel, szintén az album egyik legjobban összerakott dala.
A Mayhem alapjában nem az a dal, amit meghallgatok egyszer, aztán replay-ért kiáltok, mert nekem hallgatói szempontból annyira azért nem nyerő... Viszont kétségkívül elismerem az erényeit: zseniális a felvezetés is, aztán ahogy Lzzy finoman és nőiesen megőrül a dal végére. Egy ilyen kitörés után nincs az a pasi, aki kekeckedni merne vele... :D
De mielőtt még bárki is hozná a kényszerzubbonyt, kapunk egy Bad Girl's World-öt, amit normál körülmények között nem szeretnék, de ez annyira retro, és hogy egyebet ne említsek, annyira jól sikerült eltalálni a verséket-bridge-ket (annak a dallama pláne tetszik, még ha a refrén cseppet unalmasra is sikerült), hogy most muszáj voltam ezt is pirosítani, mert megérdemli a figyelmet. :)
A The Reckoning-nál változik a felállás, ennek meg inkább a refrénje fogott meg - egyébként meg nekem kicsit Adam Lambert zenéjét idézi. Mármint az első lemezét, mikor még volt valami köze a rockhoz.
Az I Like it Heavy szintén megmozgatja a fantáziánkat, és ki is lóg a zeneiségével a többi dal közül. A durva az, hogy Lzzynek ez a stílus is teljesen sajátja, nagyon jól áll neki. :)
Egyébként meg azt kell mondjam, ez a lemez így nagyon egyben van, egyetlen pillanatig sem volt hiányérzetem, mindent tökéletesen porciózva kaptunk az arcunkba a hallójáratainkba, ott és annyit, ahol és amennyi szükségszerű.
Hangyányival kiforrottabb, mint az eddigiek, így fél pontot még mindenképpen hozzácsapok, az a minimum - a teljes pontszámot viszont még nem tudom nekik nyugodt szívvel megadni (az "elakad a lélegzetem attól, amit művelnek" érzés ezúttal is elmaradt).... Mindenesetre megkockáztatom, hogy ennyire még Halestorm-lemezt nem szerettem, mint most ezt. 
Az én legnagyobb kedvencem az albumról:
Halestorm - Amen
Osztályzat: 10/9,5