Blogolási szempontból nálam mindig az év leginkább várt "feladata" (vagy nem is tudom, mi a legpontosabb szó rá, mert nem érzem feladatnak, egyszerűen csak jól esik csinálni :)) aztán már hagyománnyá is vált az évek során), mikor egy bejegyzés keretein belül visszatekintek az elmúlt évben hallgatott lemezekre, kedvenc dalokra. 
Nehéz elhinni, de már megint eltelt egy év (o.O), úgyhogy most ismét a Best of rovat következik. :) Ezúttal is az alapján szedtem listába a lemezek legjobbjait, ahány pontot a lemezre adtam anno - illetve ha több lemez kapott ugyanannyi pontot, akkor a szívemre hallgattam a sorrend eldöntésénél. :)) A lista most is nagyon szubjektív (ahogy az egész blogom is az), és nagyon színes is, majdhogynem minden kapcsolódó stílus képviselve van, úgyhogy ha valaki vállalkozik rá, és egészében elejétől végéig meghallgatja ezt a tracklistet, kellemes és kalandos közel három és fél órában lesz része. :)

Most pedig a szokásos számadatok:
2015-ben 50 lemez került fel a blogra.
50-ből 9 lemez kapott 10*-os osztályozást.
Az indulás óta 63345 oldalmegtekintés történt a blogon.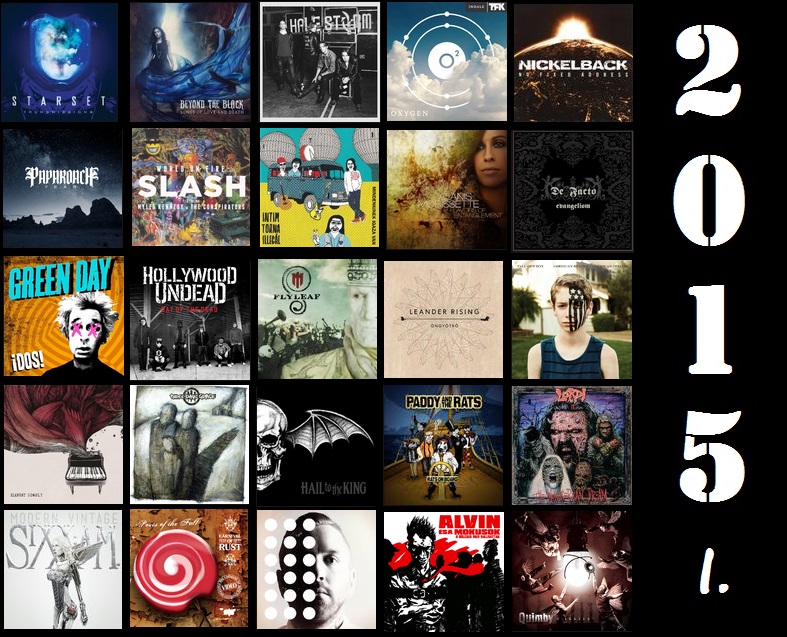 01. Three Days Grace - I Am Machine [10*]
02. Scars on Broadway - 3005 [10*]
03. Shaman's Harvest - Ten Million Voices [10*]
04. Bullet for my Valentine - No Way Out [10*]
05. Leander Rising - Öngyötrő [10*]
06. Amaranthe - Digital World [10*]
07. Dalriada - Dózsa rongyosa [10*]
08. Lordi - Pet The Destroyer [10*]
09. Quimby - Csáki Pityu bá' balladája [10*]
10. Serj Tankian - Lie Lie Lie [9,5*]
11. Nightwish - Élan [9,5*]
12. Elefánt - Tizenhat [9,5*]
13. Avenged Sevenfold - Heretic [9,5*]
14. Halestorm - Amen [9,5*]
15. Beyond the Black - In the Shadows [9*]
16. My Darkest Days - Every Lie [9*]
17. Thousand Foot Krutch - Born this Way [9*]
18. Slash ft. Myles Kennedy & The Conspirators - Shadow Life [9*]
19. Apocalyptica - Cold Blood [9*]
20. Paddy and the Rats - Freedom [9*]
21. Three Days Grace - Chalk Outline [9*]
22. Amorphis - Death of a King [8,5*]
23. Starset - Carnivore [8,5*]
24. Papa Roach - Warriors [8,5*]
25. Intim Torna Illegál - Örökké [8,5*]
26. Three Days Grace - I Hate Everything About You [8,5*]
27. Týr - Blood of Heroes [8,5*]
28. Xandria - Blood on my Hands [8,5*]
29. Battle Beast - I Want The World... and Everything In It [8,5*]
30. Like a Storm - Love The Way You Hate Me [8*]
31. Sixx:A.M. - Get Ya Some [8*]
32. We Are Harlot - Dancing On Nails [8*]
33. Breaking Benjamin - Hollow [8*]
34. Green Day - Lazy Bones [8*]
35. Hollywood Undead - Usual Suspects [8*]
36. Road - Túlzó kámfor illat [7,5*]
37. City and Colour - Ladies and Gentlemen [7,5*]
38. Poets of the Fall - Carnival of Rust [7,5*]
39. Nickelback - The Hammer's Coming Down [7,5*]
40. Intim Torna Illegál - Dobj egy kötelet [7,5*]
41. Vad Fruttik - Tudom milyen [7*]
42. Skindred - Rat Race [7*]
43. Five Finger Death Punch - This is My War [7*]
44. Fall Out Boy - Centuries [7*]
45. Flyleaf - Circle [7*]
46. Lake of Tears - Sweetwater [7*]
47. Amorphis - Narrow Path [7*]
48. Alanis Morissette - Versions of Violence [7*]
49. De Facto - Álomút [6,5*]
50. Alvin és a Mókusok - Konfliktus [6,5*]
Kedvenc előadóm 2015-ben: Shaman's Harvest. :) Egyértelműen. Igaz, beillenének az év felfedezettjének is, mivel korábban nem ismertem őket, még csak nem is hallottam róluk; egy youtube-os bolyongásom során találtam rá a zenekarra. De a lényeg: iszonyúan rákaptam a zenéjükre, és jelenleg az övék az egyetlen olyan album, amit szinte állandóan hallgatok (legtöbbjüket a blogolás után már el is kezdem hanyagolni, és nyúlok egy újabb album után - na ez esetben nem, ez a lemez mindig kézközelben van :) ). Nyáron egy elég nehéz időszakon mentem át, és a zenéjük szó szerint gyógyír volt számomra (a "Silent Voice" c. dalukkal az élen). Nathan hangja meg egész egyszerűen leírhatatlanul fantasztikus. *ömlengés vége* :D
Az év legnagyobb pozitív csalódása: Intim Torna Illegál. Sokszor hallottam már a zenekar nevét, de túúúúl gagyinak tartottam így név alapján, így hát eszembe se jutott, hogy egyáltalán belehallgassak, hogy mégis milyen zenét játszhatnak... :D (valamiért totál abban a hitben voltam, hogy valami idióta tinirock tinglitangli) Aztán rádióban hallottam az "Örökké"-t, és rákeresve láttam, hogy az ITI dala. :)) Több sem kellett, nyomban be is szereztem az albumot, amin ez a dal megtalálható, és hát én tökre bírtam az egész korongot! :) Ez is egy példa arra, hogy nem szabad élből elutasítani egyetlen zenekart vagy zenei stílust sem, tessék előbb kipróbálni, aztán lehet véleményezni! :)
Akiknek az idén hallgatott lemezétől többet vártam: Az év legnagyobb csalódása számomra egyértelműen a Road volt... Az eddigi lemezeiket rongyosra hallgattam, olyannyira szerettem a zenéjüket, aztán derült égből villámcsapásként megérkezett ez a M.A.T.T. album (amit ráadásul nagyon vártam már), én meg ezt a 180°-os fordulatot nem tudom mire vélni... :( "Elpártolni" épp nem fogok tőlük, de alábbhagyott most a lelkesedésem... :(
Akiknek idén a legtöbb albumát hallgattam: Three Days Grace (3)
Akiknek a zenéjével idén ismerkedtem meg (idén blogoltam róluk először): Idén is rengeteg előadóval bővült a blog repertoárja. :) Starset, Alanis Morissette, Quimby, Skindred, Beyond the Black, Slash ft. Myles Kennedy & The Conspirators, Flyleaf, Three Days Grace, Paddy and the Rats, Sixx:A.M., Poets of the Fall, City and Colour, My Darkest Days, Lake of Tears, Intim Torna Illegál, Shaman's Harvest, Xandria, We Are Harlot, Like a Storm, Týr, Battle Beast, Serj Tankian, Scars on Broadway.
A legkülönlegesebb album: Quimby. Nagyon szerettem, amit ők ezen az albumon műveltek, bár kicsit azóta se tudom műfajilag hova tenni őket... :D De kit érdekel, a lényeg, hogy minőségi zenét játszanak, amire bárhol, bármikor vevő vagyok. :) Biztos vagyok benne, hogy nem utoljára írtam róluk.
Az év leginkább várt albuma: Nyilvánvalóan volt több ilyen is, de most inkább az egyik legrégebbi kedvencem, a Bullet for my Valentine új lemezét emelném ki, a Venom-ot. :) Állításuk szerint most visszatértek a populárisabb ösvényről a korábbi, hardosabb, keménylegény énükhöz - és milyen jól tették! :) Engem maximálisan meggyőzött a végeredmény.
Az év felfedezettje: Beyond the Black. Imádom a zenéjüket, az énekesnőjüknek pedig valami hihetetlenül jó hangja van (és ami a legfontosabb: nem csak felvételen, élőben is lealázna a hangjával bárkit!). Nagyon bízom benne, hogy nem csak egylemezes előadók lesznek, hanem még jó sokáig boldogítanak minket a dalaikkal. :) 
Idén hallgatott magyar (előadójú) albumok száma: 11
2015-ös megjelenésű hallgatott albumok száma: 19 (majdnem az albumok kétötöde! Enyhén szólva a friss megjelenésekre helyeztem idén a hangsúlyt :D)
Összes véleményezett album a blogon: 318
Youtube-os lejátszási listát még nem csináltam, azt sem tudom, hogy egyáltalán van-e igény rá. Spotify-on inkább valószínűbb, hogy összedobok majd egy listát a fenti sorrend alapján. :) (Aki még nem regisztrált Spotify-ra, tegye meg mielőbb, mert tényleg szuper oldal, ingyenes is, és zenehallgatásra sokkal jobban megfelel, mint a youtube - tekintve, hogy minden stúdióminőségben van fenn, komplett albumok, és ami talán a legfontosabb: legálisan).