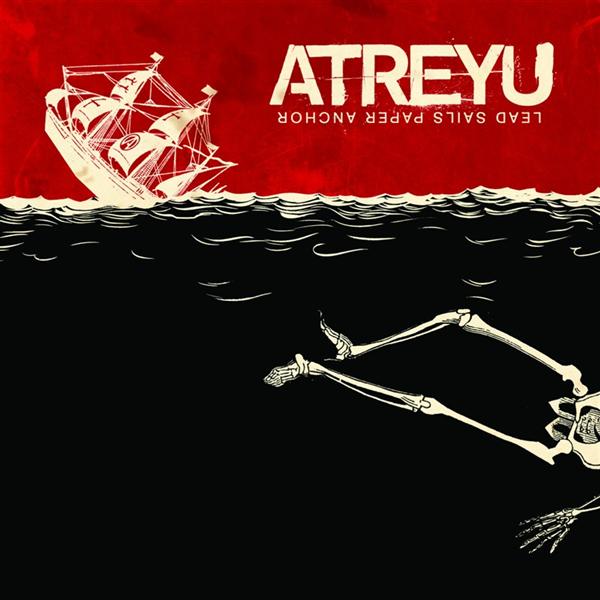 Lassan eltelik egy hónap az évből, én meg még nem írtam egyetlen albumról sem! o.O Na most ezen változtatok gyorsban... :D
Az évvel együtt a suli is elkezdődött nekem, megint, úgyhogy még ha máskor nem is túl sokat, de a buszon hallgatok bőven zenét. :) Pár hete pl. az Atreyu 2007-es korongjára pörögtem rá totálisan. Mindenképpen szerettem volna bővíteni a blog repertoárját, és valami olyat választani, amilyen még nem volt: ekkor került utamba az Atreyu "Blow" c. dala, aztán meg ezen felbuzdulva az egész lemez - és én ezzel aztán teljesen jól el is voltam (bővebben majd lent). 
Az Atreyu egy 1998-ban alakult amerikai metalcore zenekar. Eredetileg Retribution néven kezdték pályafutásukat, de aztán lecserélték Atreyu-ra, Michael Ende "A Végtelen Történet" c. híres meseregényének egyik főszereplője után (a magyar fordításban egyébként Atráskónak hívják). [Én személy szerint még nem olvastam, csak elkezdtem, még évekkel ezelőtt, de akkor épp nem voltam fantasyra fogékony hangulatomban, úgyhogy annyiban is maradt... De ami késik, nem múlik... :)]
'98-ban sikerült is kiadniuk egy EP-t, amit a fellépéseiken lehetett megvásárolni. Ezután megjelent egy második EP-jük is, amit aztán egy lemezszerződés követett a Victory Records-nál 2001-ben. 
Eddig hat nagylemezük jelent meg, a legutóbbi "Long Live" címmel tavaly szeptemberben. A "Lead Sails Paper Anchor" a csapat negyedik stúdióalbuma.
Tagok:
Alex Varkatzas (szólóvokál, harsh vokál, dalszövegek)
Dan Jacobs (szóló- és ritmusgitár)
Travis Miguel (ritmus- és szólógitár)
Marc McKnight (basszusgitár, háttérvokál)
Brandon Saller (tiszta vokál, dobok, ütőhangszerek)
Tracklist:
01. Doomsday
02. Honor
03. Falling Down
04. Becoming the Bull
05. When Two Are One
06. Lose It
07. No One Cares
08. Can't Happen Here
09. Slow Burn
10. Blow (ft. Josh Todd)
11. Lead Sails (And a Paper Anchor)
12. The Squeeze (On Re-release)
13. Epic (Faith No More cover) (On Re-release)
14. Clean Sheets (Descendents cover) (On Re-release)
Bevallom, szkeptikusan kezdtem hallgatni ezt a lemezt. Oké, hogy a Blow c. daluk betalált, de amikor elölről kezdtem hallgatni ezt az albumot, egyből arra gondoltam, hogy na ez is jó tucat lesz... Aztán mikor már több daluk is lement, akkor kezdtem úgy igazán rákapni, azóta meg minden egyes újra-hallgatással csak egyre jobban és jobban szeretem, nem csak magukat a dalokat, de konkrétan ezt az egész stílust, amit idepakoltak nekünk a srácok ezen a lemezen. :) Hasít, ahol kell, de meghúzza a gyeplőt, mielőtt még szakadékba rohannánk - és ez a játék zajlik le minden dalukban, amit én speciel totálisan élveztem.
Kezdhetném egyesével kielemezgetni a dalokat, de ez most szükségtelen, mert szinte kivétel nélkül imádom mindegyiket. :)) A pirossal kijelöltek között igazából semmilyen sorrendet sem tudnék felállítani, épp ezért... :D
Amit viszont külön kiemelnék, az a Blow, amit a Buckcherry nevezetű zenekar énekesének, Josh Todd-nak a vendégszereplésével vettek fel. (A Buckcherry-ről sem volt még szó, pedig nem most hallok róluk először, de ami késik, garantáltan nem múlik... :) ). Emellett pedig mindenképpen említést érdemel a címadó dal, ami kellően kilóg a sorból. Őszintén, olyan homályosan fogalmaznak a szövegben, hogy gyakorlatilag nem lehetne pontosan rámondani, hogy miről is szól, de talán részben ettől is működik. Másrészt meg a dallama és a hangulata miatt. A refrén, no meg ez a szomorkás atmoszféra engem teljesen megfogott. Nagy meglepetés volt ez a dal, de örülök, hogy felkerült a korongra. 
"Legjobb dalt" választani most sem könnyű... Ami leginkább szóba jöhet, az a Doomsday, a Becoming the Bull, és a Blow. És mivel igazából bármelyik lehetne, annyira mindegy, így most legyen ez kiemelve... :D Ha már a lemezen is ez a legelső dal...
Atreyu - Doomsday
Maximálisan pozitív csalódás volt ez a csapat, sok ilyet kérek még! :)
10/9