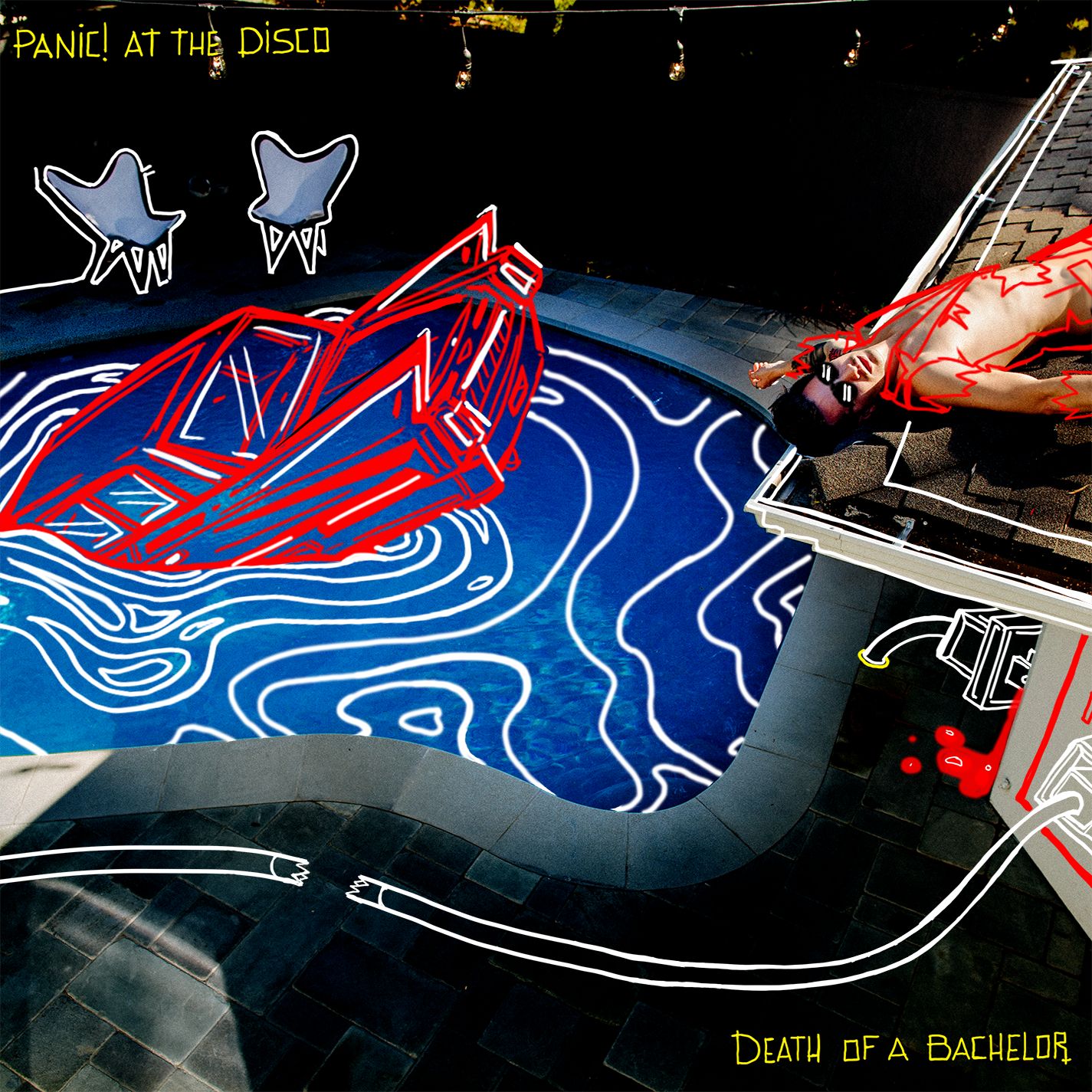 Azt hiszem, most jött el az a pont, mikor már egyre kevésbé nevezhetjük bármiféle rocknak azt, amit a Panic! at the Disco művel. Anno rajongtam ezért a formációért, sőt még az előző "Too Weird to Live, Too Rare to Die" lemezük is nagy durranás volt (legalábbis nálam mindenképpen)... Aztán jött ez az idei lemez...
Mint ahogy az ismeretes, ezt az albumot a zenekar énekese, Brendon Urie már egyes egyedül írta és rögzítette - turnézni is már csak turnézenészekkel jár, szóval a Panic! at the Disco mára már teljesen mono lett, az állandó tagok számát tekintve... Urie egy interjúban boncolgatta azt is, a lemez munkálatainak kezdete előtt, hogy egyelőre még abban sem biztos, hogy új P!ATD-album fog-e születni, vagy inkább szólóalbumot ad ki (nem mintha nem lenne tökmindegy amúgy... :D no meg hát szerintem Brendon Urie neve is van már legalább annyira ismert, mint a P!ATD-é, úgyhogy attól sem igen kellett volna tartania, hogy a szólólemeze kevésbé fogyott volna.)
A formáció eddigi dobosa, Spencer Smith 2015-ben lépett a távozás mezejére, Dallon Weekes basszeros/gitáros pedig (aki már korábban is turnézenészként működött közre a zenekar életében, 2010-ig) szintén tavaly állandó tagból lefokozta magát ismét turnézenésszé.
Érdekesség még a Panic! háza tájáról, hogy az idén megjelent Suicide Squad - Öngyilkos osztag c. filmhez Urie is hozzájárult egy trackkel: a Queen-féle Bohemian Rhapsody-ból készített egy feldolgozást, ami annyira profi lett, és olyannyira követi az eredeti dalt, hogy az valami elképesztő. :) ITT meghallgatható.
Megjelent: 2016.01.15.
Tagok:
Brendon Urie (ének, gitár, basszus, dob)
Tracklist:
01. Victorius
02. Don't Threaten Me with a Good Time
03. Hallelujah
04. Emperor's New Clothes
05. Death of a Bachelor
06. Crazy=Genius
07. LA Devotee
08. Golden Days
09. The Good, the Bad and the Dirty
10. House of Memories
11. Impossible Year
Legelőször a Hallelujah-t hallottam a lemezről, és őszintén: nem nyűgözött le. :/ Pedig ha valaki, hát én eléggé csíptem már szinte a kezdetek óta a Panic! at the Disco zenéjét, de nekem ez elkeserítően langyosvíz volt csak... :( Annyival jobbat tudott ez a zenekar eddig...
Ezen a másodikként megjelent single, a Victorious sem sokat javított, mintha egy Fall Out Boy dalt hallgatnék...
Aztán jött az áttörés az Emperor's New Clothes-szal - nem mondom, hogy ez egy korszakalkotó dal, de számomra klasszisokkal jobb, mint az első kettő. :) A megjelenés óta már rengetegszer meghallgattam, és azóta sem unom. :) A videója meg hát... khm... érdekes. :D
Bár a rock műfajától a 2. track is nagyon messze van, és a szövege is eléggé erős (na ez az életmód az, amit én a leghatározottabban elutasítok...), de a zenei alapja és a dallama miatt mégis sikerült megfognia. :)
A Death of a Bachelor a kicsit jazzes, sanzonra hajazó mivoltában szintén egy viszonylag jó kis dal lett.
A Crazy=Genius már inkább a jazz és a swing keveréke, mindenesetre én ezt imádtam. :) Pedig alapból a jazz és a swing is baromi messze áll tőlem. :D
Az LA Devotee szintén egy "szívesen-hallgatom" kategóriás dal nálam, bár ezt is inkább popnak nevezném, vagy valami fura alter rocknak, pop/rock-nak. Az Emperor's... után ez volt a második dal a lemezről, ami úgy igazán megfogott, és nap közben is sokszor eszembe jutott, és dúdolgatni kezdtem. :)
Ami pedig még nekem személyes kedvencem lett első hallásra, az a House of Memories. :) Ez is inkább pop, a rocknak semmi köze hozzá, de én mégis nagyon bírtam... :)
No de nem is húzom tovább az időt, azokat úgyis kijelöltem, amiket igazán szerettem a lemezről (igazából majdnem mindegyik számukban találtam valami olyat, ami miatt szerethetővé vált és időről időre visszatértem hozzájuk - de azt is kár lenne tagadnom, hogy bizony a korábbi lelkesedésem és rajongásom a "csapat" iránt már talán véglegesen a múlté...)
Kedvencként most ezt fogom kiemelni (bár lenne még néhány dal a lemezről, ami legalább ennyire megérdemelné):
Panic! at the Disco - Emperor's New Clothes
Eddig megjelent klippes dalok:
10/8,5
Bővebben a zenekarról:
http://www.panicatthedisco.com/