Ideje végre összeszednem, hogy tavaly kiket/miket hallgattam, meg a szokásos kis éves statisztikámat. :) Igaz, a tavalyi évem nem volt túl aktív, blogolás szempontjából, ennyire kevés lemezt 1 év alatt még sosem hallgattam a blog indulása óta... :/ Remélem, idén sikerül majd több albumajánlót produkálnom.

De jöjjenek is a már megszokott számadatok, a motorháztető alól:
2016-ban 24 lemez került fel a blogra.
24-ből 2 lemez kapott 10*-os osztályozást (igen, most szigorú voltam :)) )
Az indulás óta 73792 oldalmegtekintés történt a blogon.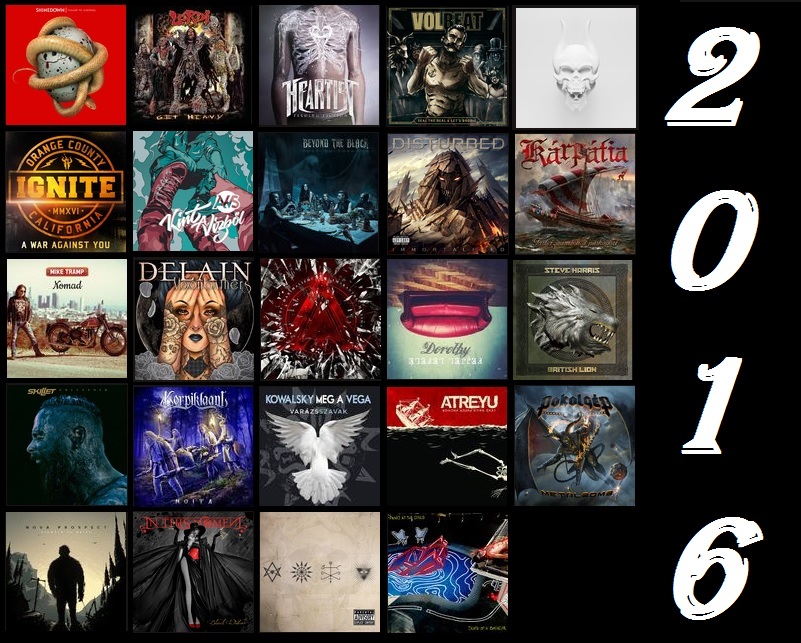 01. Pokolgép - Szabadon és még szabadabban [10*]
02. AWS - Hajnali járat [10*]
03. Volbeat - The Devil's Bleeding Crown [9,5*]
04. Santa Cruz - Remedy [9*]
05. Lordi - Would You Love a Monsterman? [9*]
06. Disturbed - You're Mine [9*]
07. Ignite - Rise Up [9*]
08. Trivium - Silence In The Snow [9*]
09. Delain - Hands of Gold [9*]
10. Heartist - Black Cloud [9*]
11. Amaranthe - Break Down And Cry [9*]
12. Atreyu - Doomsday [9*]
13. Kowalsky meg a Vega - Mit mondjak még? [9*]
14. Panic! at the Disco - Emperor's New Clothes [8,5*]
15. In This Moment - Natural Born Sinner [8,5*]
16. Kárpátia - A Bánat Kovácsa [8,5*]
17. Nova Protect - Amíg van benned élet (km. Halák Árpi) [8,5*]
18. Korpiklaani - Kylästä keväinen kehto [8*]
19. Skillet - I Want to Live [8*]
20. Beyond The Black - Forget My Name [8*]
21. Shinedown - Cut The Cord [8*]
22. Steve Harris - Us Against The World [7,5*]
23. Mike Tramp - Counting The Hours [7,5*]
24. Dorothy - Szívparancsolat [6,5*]
Kedvenc előadóm 2016-ban: Volbeat. :) Michael Poulsen énekes hangját nagyon megszerettem, és a dalok is kifogástalanok (még ha vlmi kis apróságot anno hiányoltam is az album dalaiból).
Az év legnagyobb pozitív csalódása: Itt egyszerre kell megemlítenem az In This Momentet és a Pokolgépet. Az In This Moment "Fighter"-jét még mindig nem hevertem ki, nagy hatással volt rám, lenyűgöző az előadásmód, a dal, imádom, úgy ahogy van - holott álmomban sem gondoltam volna, hogy bármikor is ilyet fogok írni az ITM-ről, mert az addig itt-ott hallott dalaikat nem csíptem különösebben. :) Ahhoz képest most ez az album kompletten nagyon tetszett. A Pokolgép 2016-os lemeze pedig maxpontot ért nálam, olyan szinten betalált. :) Blogoltam már lemezükről, de az sokkal kevésbé tetszett. Ez most nagyon. *-*
Akiknek az idén hallgatott lemezétől többet vártam: Többet is ki tudnék itt emelni, mint pl. a Skillet-et, de a Beyond the Black tavalyi albuma még annál is nagyobb csalódást okozott. :/ Jennifer Haben hangi adottságai sokkal többre predesztinálnák őket, és vártam, hogy most megtörténik az áttörés, és még a 2015-ös lemezüknél is jobb lesz az új... Hát nem.
Akiknek idén a legtöbb albumát hallgattam: Nincs ilyen, mindenkitől csak 1 lemezt hallgattam.
Akiknek a zenéjével idén ismerkedtem meg (idén blogoltam róluk először): AWS, Volbeat, Santa Cruz, Ignite, Trivium, Heartist, Atreyu, In This Moment, Nova Prospect, Korpiklaani, Steve Harris, Mike Tramp, Dorothy
A legkülönlegesebb album: A Korpiklaani Noita-ja. :)) Egyértelműen. Azért is, mert finn nyelvűek a dalok, meg azért is, mert azért ilyen típusú folk metalt, mint amit ők is játszanak, nem gyakran hall az ember. :) Szerettem, mindenképpen újrahallgatós lesz nálam ez a korong. :)
Az év leginkább várt albuma: A Panic! at the Disco-tól a Death Of A Bachelor. Igaz, így utólag már azt mondom, kár volt ennyire ráizgulni erre a megjelenésre, mert beillene az év csalódásának is ez a lemez. :/ Talán végérvényesen a múlté már az a P!ATD, akit anno középsuliban annyira megszerettem...
Az év felfedezettje: Az AWS. :) Modern, mai, lendületes, és tényleg többnyire csak szuperlatívuszokban tudnék róluk beszélni. Mindenképpen követni fogom a pályájukat, abban bízva, hogy sokáig megmaradnak a hazai metal színtéren, sajátos, igazán szerethető zeneiségükkel tovább színesítve azt. :)
Idén hallgatott magyar (előadójú) albumok száma: 6 (bár kicsit az Ignite-ot is tiszteletbeli magyar zenekarnak tekinthetjük, az énekesük, Téglás Zoli miatt :) )
2016-os megjelenésű hallgatott albumok száma: 10
Összes véleményezett album a blogon: 342
Ennyit a visszatekintésről a tavalyi évre, most pedig robogunk is tovább - bár egyelőre csak félgázzal, de igyekszem munka mellett majd jól beosztani a szabadidőmet, hogy idén ennél azért több albumról tudjak írni. :) Tervezem, hogy idén újra lesz Time Travel rovat, 20-30-40 évvel ezelőtt kiadott albumokkal (már tavaly is tervben volt, csak aztán nem jött össze... a 2014-est viszont anno nagyon élveztem, úgyhogy tényleg jó lenne megint nyélbe ütni egy ilyet :) ). Emellett pedig ugyanúgy folytatódik a tavaly év végén elkezdett "Weekly" heti toplistánk, ahol igyekszem majd továbbra is friss klipeket hozni, jobbnál jobb zenékkel elhalmozva benneteket, hétről hétre. :)
A többi meg majd alakul... ;)