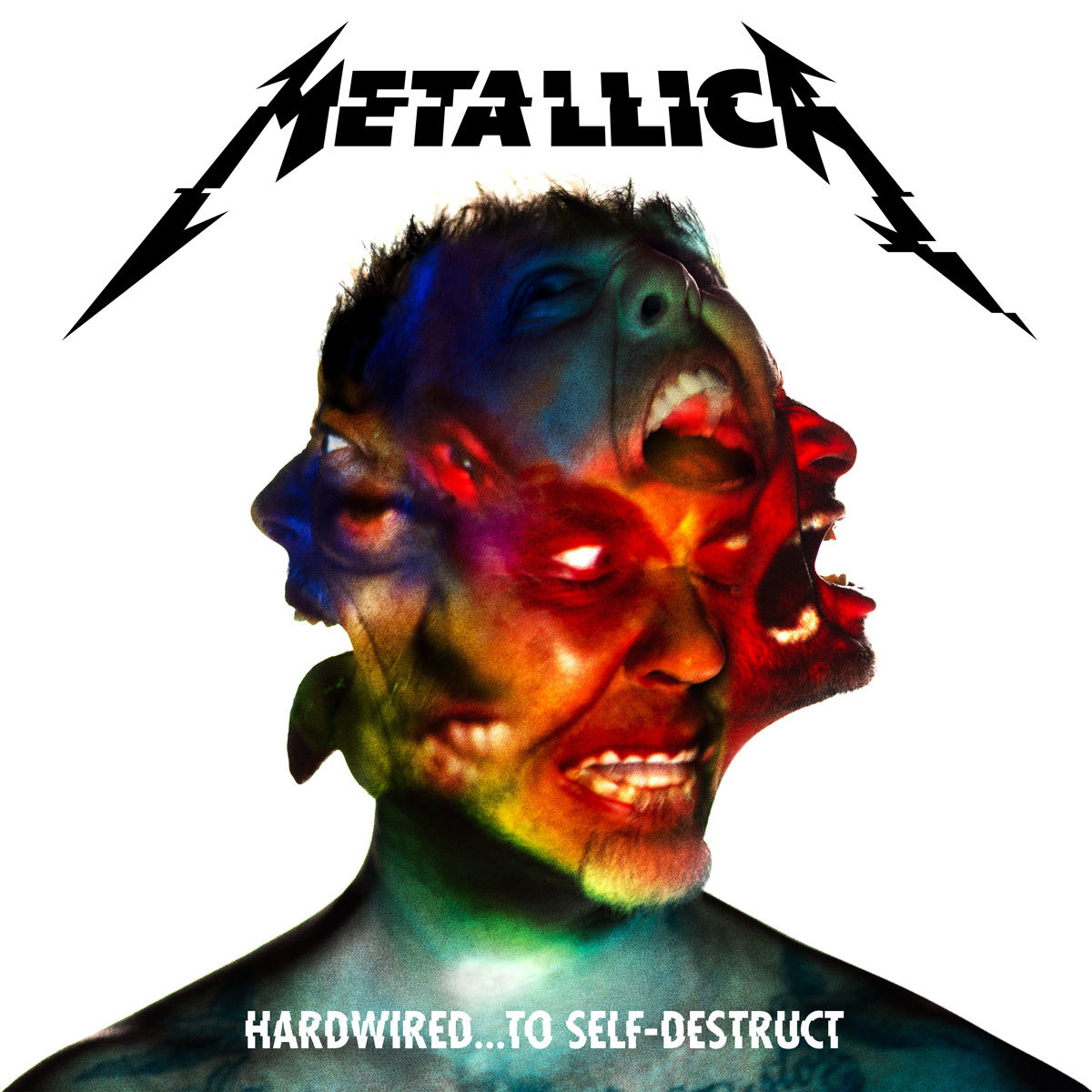 Mint észrevettétek, az utóbbi időben elég rendesen hanyagoltam a blogot is, és a facebook oldalunkat is (örömmel konstatáltam, hogy ennek ellenére facebook-on az elmúlt hetek alatt már 150-en lettünk - ennyien verődtünk össze a rock/metálszeretet jegyében, amit a blogom is képvisel, már majdnem pontosan 7 éve. :) ). Az életem eléggé felpörgött mostanság, időközben menyasszony lettem. :) Emellett kezdem egyre jobban belakni az új munkahelyemet, kicsit hihetetlen, hogy már fél éve dolgozok ott. Szóval most minden szupi. :) 
Persze mindettől eltekintve, a zene továbbra is jelen van az életemben (maximum nem tudok már annyi időt szentelni a blogra, mint eddig). Az egyik album, amit mostanság hallgattam, elégszer ahhoz, hogy írjak róla, az a Metallica várva várt új albuma. :)
Rajongónak sosem tartottam magam, és nem is állítom a zenekarról, hogy minden számuk istenkirály. Számomra ez az album is nagyon vegyes lett: vannak rajta olyan dalok, amiket nagyon szeretek, és persze olyanok is, amik nem mozgattak meg bennem semmit. 
A lemez tavaly év végén jelent meg (8 évvel az előző lemezük kiadása után), a zenekar nagylemezeinek sorában tizedikként - és mindent összevetve azt azért elmondhatjuk, hogy méltó folytatása a Metallica diszkográfiájának. :)
Megjelent: 2016.11.18.
Tagok:
James Hetfield (ének, ritmusgitár)
Kirk Hammett (szólógitár)
Robert Trujillo (basszus, háttérvokál)
Lars Ulrich (dobok)
Tracklist:
Disc One:
01. Hardwired
02. Atlas, Rise!
03. Now That We're Dead
04. Moth into Flame
05. Dream No More
06. Halo on Fire
Disc Two:
01. Confusion
02. ManUNkind
03. Here Comes Revenge
04. Am I Savage?
05. Murder One
06. Spit Out the Bone
Disc Three: (Deluxe Edition)
01. Lords of Summer
02. Ronnie Rising Medley (medley of Rainbow covers)
03. When a Blind Man Cries (Deep Purple cover)
04. Remember Tomorrow (Iron Maiden cover)
05. Helpless (Diamond Head cover, live)
06. Hit the Lights (live)
07. The Four Horsemen (live)
08. Ride the Lightning (live)
09. Fade to Black (live)
10. Jump in the Fire (live)
11. For Whom the Bell Tolls (live)
12. Creeping Death (live)
13. Metal Militia (live)
14. Hardwired (live)
Sok mindent lehet mondani az új Metallica-anyagra, csak azt nem, hogy unalmas lenne - bár az esély meglett volna rá, ugyanis nem siették el, közel 80 perces lett az album (ha a 3. lemezt is hozzászámítjuk, ami a Deluxe kiadás részeként jelent meg, bonus cover-dalokat és live-okat tartalmaz - ezt is bemásoltam, de ezen szándékosan nem jelölgettem, elvégre az új dalok a lényegesek most :) ). 12 új dalt rögzítettek, amit végül dupla cd-n adtak ki. Ami azt illeti, nekem nem lehet okom panaszra, ugyanis erről az albumról is lett néhány kedvenc dalom. :) 
Például az első korong szinte teljes egészében. :))
Úgy konkrétabban: egyik a "Now That We're Dead", amiben úgy igazán az ütemét és a hangszeres játékát szeretem. Ez biztosan sokáig fog még nálam pörögni, ahogyan a "Halo on Fire" is. Erről a legnagyobb nyugalommal kijelenthetem, hogy az egyik legsikerültebb Metallica-dalnak tartom, egyszerűen minden a helyén van benne, imádom a dallamát, a zenei alapot - úgy ahogy van. Trujillo gitárjátéka pedig csak hab a tortán, az első refrén után 2:10 környékén (ezzel a kis latinos beütésével konkrétan a Dirty Dancing 2. része jutott eszembe. :D Mondjuk ez nem hátrány, mert annak a filmnek speciel nagyon bírom a zenéit, pl. Santanát, rögtön a film elején. :)) )
A "Moth Into Flame" eleinte még nem is igazán jött be, aztán minél többször hallottam, annál jobban elkezdett tetszeni (na igen, ez is olyan dal, aminek időt kellett hagynom, hogy "hatni kezdjen" :) ). Lars Ulrich dobos nyilatkozott a dal kapcsán egy olyat, hogy ez a daluk igazából a hírnév átkáról szól, bár ez valójában rájuk annyira nem is érvényes: ők mindig igyekeztek magukat a "celebbé válástól" megóvni, nem övezték pletykák a zenekart vagy a tagokat, nem voltak a botrányaikkal tele a bulvárlapok (és ő maga a közösségi oldalakat sem hajlandó használni, olyannyira igyekszik óvni a magánéletét). Még azt is hozzátette, hogy a dalt (többek között) Amy Winehouse élete és halála is inspirálta.
[Az egyébként nagyon fura, hogy Ulrich ugyanebben a Hammerworld-ös interjúban azt nyilatkozta, hogy szerinte a Metallica még mindig egy nagyon perifériára szorult zenekar, és ha a világ legnagyobb mainstream bandáit kezdik sorolni, a Metallica neve itt is ritkán tűnik fel. Szerintem ez nem feltétlenül van így, ők eléggé kikerülhetetlen zenekarrá nőtték már ki magukat, legalábbis pl. itthon mindenképpen. :) De megkockáztatom, világszerte, ha bárhol megemlíti valaki ezt a nevet, csak nagyon kevesen mondanák azt, hogy nem tudják, miről/kikről van szó. És ez azért nem kis teljesítmény, főleg metal berkekben.]
A második cd-ről a legnagyobb kedvencem a "Spit Out the Bone", hihetetlenül pörgős, élvezem minden másodpercét. :) Ezen kívül különösen szerettem a Confusion-t, és a Here Comes Revenge-et is - a többi viszont már csak amolyan "elhallgatós", különösebben nem fogott meg egyik sem, de elvagyok velük.
Nem is volt kérdéses, hogy a bejegyzésem végén melyik dalt fogom kiemelni. :) Nekem ez lett a nagy kedvenc a korongról - ezt követi a Spit Out the Bone, majd a Now That We're Dead. 
Azt hiszem, ezek után már mondanom sem kell, hogy nekem nagyon megérte időt szánni erre a lemezre. Tegyetek vele ti is egy próbát, ha eddig még nem... :)
Metallica - Halo On Fire
A Metallica nagy újítása az is, hogy ezúttal a stúdiólemez mindegyik dalához készítettek ilyen-olyan videoklipet is (plusz az egyik bónusztrack-hez is).
 Megjelent klippes dalok:
10/8,5